Noted lawyer says this has already been reported by a Swiss magazine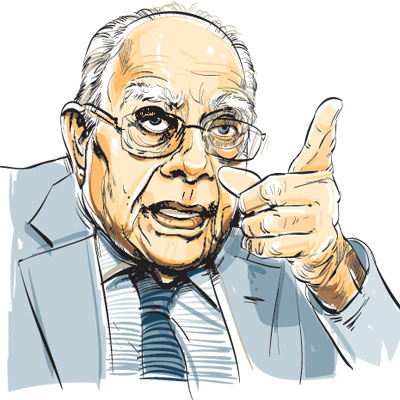 A day after the Modi government notified the constitution of a Special Investigating Team (SIT) to probe black money, noted jurist Ram Jethmalani, a petitioner before the Supreme Court (SC), said he strongly suspects that name of Congress president Sonia Gandhi is there in the list of persons who had stashed black money in foreign banks.
"I strongly suspect that the name of Sonia is there. She has kept the wealth of her late husband Rajiv Gandhi, former prime minister, in Swiss bank and the same has been reported by a Swiss magazine," Jethmalani told dna in an exclusive interview.
All Congress spokespersons dna contacted refused to comment on the allegation levelled by Jethmalani.
While hearing Jethmalani's writ petition, the SC, on May 1, had appointed Justice M B Shah, retired SC judge, as chairman of the SIT and retired Justice Arijit Pasayat as vice-chairman to monitor the probe.
The senior counsel alleged that the previous government was not in favour of SIT as the names of some politicians, who were part of the government, were there.
"I know the names of either their cronies or the members of the previous government are there. Otherwise, why was the government against the constitution of SIT? The government was dishonest in investigating the whole black money issue," he said.
The former law minister said several politicians as well as others are there and a proper, honest investigation is required to bring out the truth.
"I want the huge money stashed in various foreign banks to be recovered and the culprits booked," Jethmalani said.
Expressing confidence on Modi government, he said this issue is in the BJP's manifesto and the government has to fulfil its promise.
He sought the Modi government to withdraw immediately a review plea, filed by the UPA-II government, for the review of the May 1 SC order.
"This government should put an end to all the obstacles in view of the SC order," he said.
Regarding his suggestion to SIT, Jethmalani said the SIT can seek his advice as he is well conversant with Indian laws as well as those of foreign countries.