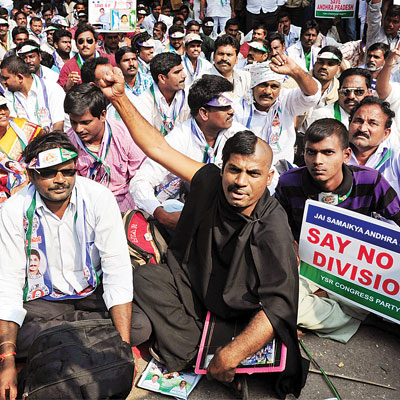 A chance encounter between Congress president Sonia Gandhi and Bharatiya Janata Party leader M Venkaiah Naidu began with pleasantries but ended up in a chat on the contentious Telangana issue.
Gandhi is understood to have told Naidu that his party went back on its promise to back the bill for formation of Telangana. The BJP leader from Andhra Pradesh said it was the UPA that had not kept its word of making amendments which it had assured to do, according to sources familiar with the meeting.
Gandhi and Naidu's paths crossed in Parliament House on Monday afternoon as Gandhi was leaving the Central Hall and Naidu was coming out of Rajya Sabha. Naidu inquired about Gandhi's health before the conversation turned to Telangana, the Bill for which is expected to come up in Parliament today.
Accordingly on Monday, the government sent emissaries to reach out to BJP leaders, who cautioned against its passage amid chaos in the House and demanded that concerns of Seemandhra be addressed in the Bill. Home minister Sushil Kumar Shinde and rural development minister Jairam Ramesh met senior BJP leaders LK Advani, Sushma Swaraj, Arun Jaitley and Naidu.
The BJP conveyed its displeasure over the way the Bill was "introduced" in Lok Sabha on Thursday. It is not just the Opposition that is unhappy over it. Trouble over the Bill mounted as fissures surfaced within the Union cabinet with five Andhra ministers writing to Speaker Meira Kumar saying the Bill cannot be treated as introduced as "procedure has not been followed". The ministers — KS Rao, MM Pallam Raju, K Chiranjeevi, KJ Suryaprakash Reddy and D Purandeswari — had written a separate letter to the Speaker on February 14 saying she had "selectively suspended 16 MPs" when there were 100 MPs in the well.
The ministers on Monday also met Advani to seek the BJP's support for addressing concerns of Seemandhra region in the wake of Andhra Pradesh's bifurcation.
"My question is why was the Bill not taken up in the past nine years and nine months.... We are saying set your house in order first," Naidu said after the meeting between the ministers and BJP leaders.
The BJP leaders told the ministers that the changes sought by them had not been carried out in the legislation. The ministers assured them that these would be addressed, a BJP leader said.
The BJP has questioned the constitutional validity of giving powers to the governor in administering Hyderabad during the 10 years when it will be a joint capital of both the states, fearing law and order problems. The party is of the view that a constitutional amendment is required or else it can be challenged in court.
With Hyderabad being the hub of development in the state, the BJP leaders want the government to ensure financial support for Seemandhra region keeping in mind the revenue gap and address concerns about irrigation projects and power.