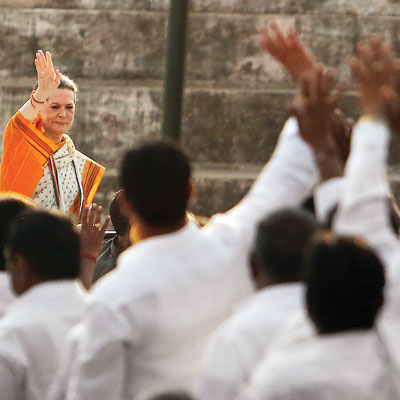 Kickstarting her election campaign in Telangana, Congress president Sonia Gandhi on Wednesday sought to take full credit for her party for creation of the new state and trained her guns on Telangana Rashtra Samiti for speaking the language of "intimidation".
Addressing her first public meeting in Andhra Pradesh after a gap of five years, Sonia Gandhi said she had come to Karimnagar to participate in the celebrations of Telagnana which the Congress had delivered as per the commitment made by her during campaigning in 2009. In fact she was addressing the rally at Ambedkar Stadium in Karimnagar, where the commitment was made.
"It was only Congress which decided to form a separate state of Telangana. It was only Congress which prepared the Bill and it was only Congress which got it passed in Lok Sabha and Rajya Sabha...there is no doubt that without Congress, the formation of Telangana could not have been realised," she said.
BJP had opposed the Bill in Rajya Sabha till their "last breath" while TDP had done so with all its might in Lok Sabha. YSR Congress Party had left no stone unturned for stalling the Bill, she alleged.
She further said, "Now the era of agitation (for separate state of Telangana) has ended. Now...the time is to run a responsible government and only Congress can do this task. Congress takes everybody together and talks to everybody. On the other hand, TRS only talks about a language of scaring and threatening (intimidation)."
"Don't be fooled by TRS as only Congress can deliver development in Telangana," she said.
Large crowds from all over ten Telangana districts showered marigold flowers, Congress shawls and garlands as she walked briskly to the glass facaded podium in the stadium along with Digvijay Singh , Telengana PCC president Ponnala Lakshmaiah and others.
"It took some time to achieve consensus and deliver Telangana but Congress never gave up hope and persistently strived to achieve and deliver Telagnana," she said.