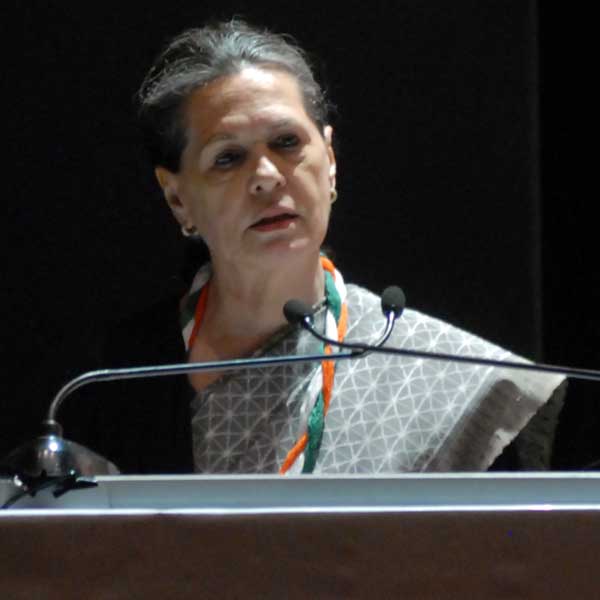 Congress Party President and UPA chairperson Sonia Gandhi on Sunday said she was proud that her party was able to pass the historical Food Security Bill and Land Acquisition Bill in the Monsoon Session of Parliament, in spite of facing several obstacles from the opposition parties.
"I am proud that despite the several obstacles by the opposition parties, the Congress Party was able to pass this historical law in Parliament, in order to eradicate hunger and foster nutrition in the country," Gandhi said while commenting on the recently-passed Food Security Bill.
"The Land Acquisition is very good news for the farmers of our country, who will now be protected," she added.
Speaking at a rally here, after laying the foundation stone for a Mainline Electric Multiple Unit (MEMU) coach factory, Gandhi reiterated that the Congress Party was commited to empowering all sections of society, especially the poor, in India.
"The Congress Party is the only party which works for the development of all sections of society; we especially support the poor," Gandhi said.
"The Congress is continually committed to development and progress in the region, so as to enable the people progress economically and give them progress and development," she said.
Earlier today, the Congress President laid the foundation stone of refinery and petro-chemical complex at Pachpadra in Rajasthan's Barmer district.
The Union Cabinet on Friday approved setting up of a nine million tonne refinery-cum-petrochemical complex by Hindustan Petroleum Corporation Limited (HPCL's) in Barmer.
The proposed refinery will be a subsidiary of HPCL with its equity of 74 percent to be held by HPCL and 26 percent to be held by the Government of Rajasthan.