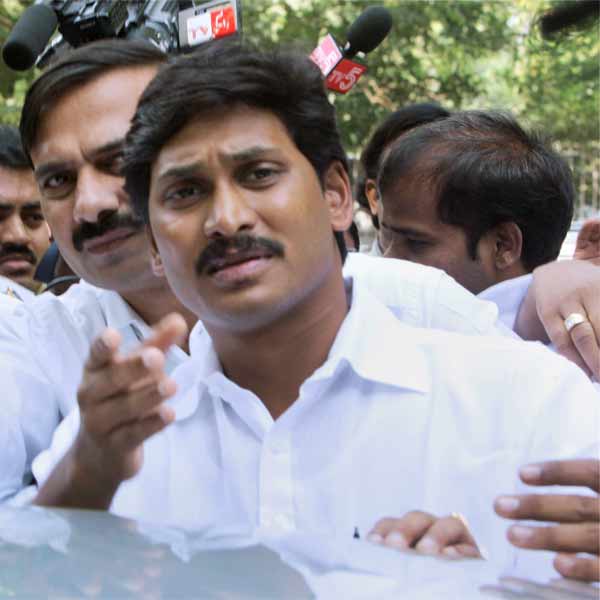 Expressing deep anguish over the arbitrary bifurcation of Andhra Pradesh, YSR Congress Party Chief YS Jagan Mohan Reddy has blamed Congress President Sonia Gandhi for the "crisis" in the state and accused her of exploiting sentiments of people to pave way for Rahul Gandhi to become prime minister.
"Sonia Gandhi is responsible for the crisis in the state and she has been playing with the sentiments of the people with the singular motive of seeing to it that her son Rahul Gandhi is made Prime Minister," he told media at the Lotus Pond camp office where he began his indefinite fast on Saturday demanding the Centre to review its decision of bifurcating the State.
He further appealed to Sonia Gandhi to reconsider the decision, as creating a new state would badly affect the future generations of one region.
"The division is arbitrary in nature and does not address all issues that are bound to crop up after the bifurcation," he said.
"The motive of the division could be political but Delhi cannot play with the sentiments of the people of one region. I once again appeal to the Centre to roll back its decision on division," he said, adding that BJP should also take a call on the issue and stand up for a united state
Reddy earlier said his party would approach the Supreme Court, and ask it to tell the Centre to withdraw its arbitrary decision to bifurcate Andhra Pradesh
"Why is no one talking about Bodoland, Gorkhaland or Vidarbha? We will be definitely going to the Supreme Court in protest. We are looking forward for some help, because this kind of arbitrarily doing, it is not helpful for the country. People are splitting this country for the sake of votes and seats," he said
The YSR Congress has called for 72-hour shutdown in the non-Telangana region
The Union Cabinet earlier on Thursday approved the creation of a new state of Telangana by bifurcating the existing state of Andhra Pradesh.
The city of Hyderabad will function as the common capital for both the states for a period of ten years.
The Union Cabinet has approved the setting up of a Group of Ministers (GoM) to work out the various legal and administrative measures to ensure the safety and security of the residents of all the regions of the State including the guarantee of the Fundamental Rights.
The Union Cabinet further approved that the GoM will go into the various issues which concern both the States and suggest appropriate measures to address them.
The GoM will also work out the modalities for the provision of special financial disbursements required for the setting up of a new capital for the residuary State of Andhra Pradesh and to meet the special needs of the backward regions and districts of the two States.