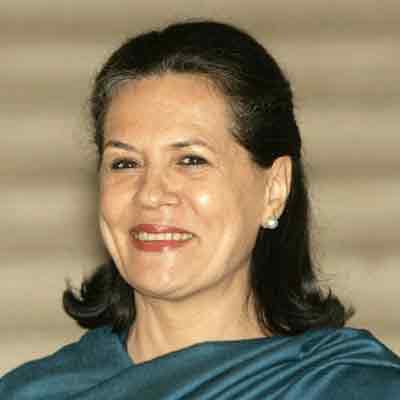 A combative Congress President Sonia Gandhi today trained her guns on Narendra Modi, saying his "true face" was being covered with a "mask" and took on his close aide Amit Shah on his "revenge" remark to propagate BJP's one point agenda to "spread communalism".
In an apparent reference to 'Snoopgate', where his name cropped over alleged spying on a young woman by Gujarat police officers in 2009, Gandhi in election rallies in Karnataka also alleged that women were being subjected to atrocities in the state.
Slamming the Gujarat model of development being touted by Modi, Gandhi said some people had the habit of projecting "small things in a big way" as if no good work is happening in other states.
In Kolar, she said, "These days you can see all over the country huge and costly advertisements are being showcased and an attempt is being made by them to hide the truth." "An attempt is being made to cover the true face of one person with a mask; he is being projected as a cure for all ills and as a magician for the country," she said, targetting Modi without naming him.
Accusing BJP of spreading hatred "between brothers to cover up their wrongs," the UPA Chairperson said such attempts were aimed at breaking the social fabric of the society.
"Congress has been always fighting for maintaining communal harmony, but BJP has only one agenda to spread communalism which was exposed in Uttar Pradesh by one of their leader's statement. Their real face has once again emerged," she said at her Mysore rally.
She was apparently referring to Shah who sparked a row with his comment that the general election, especially in western UP, is "an election for honour. It is an election to take revenge for the insult. It an election to teach a lesson to those who have committed injustice".
Gandhi said the 2014 elections "will be more important than before" as it will decide "which type of India we need."
"On one side Congress believes in democracy, believes in India's Ganga-Jamuna culture, believes in secular values and sees all its citizens with equal eyes and binds society and for such Congress we are seeking vote in this elections," Gandhi said.
On the other side, she said, "....there is BJP which is asking for vote for one person who doesn't have any belief in India's Ganga-Jamuna culture."
Apparently hitting back at Modi who had questioned UPA's claims on its flagship schemes MNREGA and RTI, Gandhi accused the opponents of levelling "false" allegations.
MNREGA had increased the opportunities to work, bringing a new ray of hope in a worker's life, she said. "Our opponents who are fully immersed in corruption are levelling false allegations against us but they will not tell you that to eradicate corruption RTI was brought by Congress party." "We also gave legal protection to whistleblowers," she said, adding, that seeing all these, BJP could not stomach it.
In his election rallies in Karnataka yesterday, Modi tore into MNREGA, alleging it had only "filled the pockets of Congress" and debunked UPA's much-touted RTI.
Attacking the Gujarat model, Gandhi alleged poor, downtrodden and minorities had made enough sacrifices and children were dying of malnutrition and tribals are facing problems in leading their daily lives. Farmers' lands were being forcefully acquired in Gujarat where women also faced "different types of harassment. This is their true picture." "....they don't believe in unity in diversity, they divide hearts, they make brothers to fight against each other.
Please tell me can you expect nation building from such people who don't believe in our fundamentals of secular principles?" she asked.