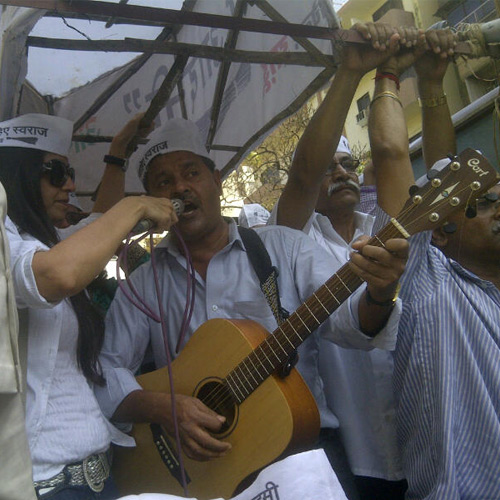 A professor of Somaiyya College and resident of Malabar Hill, Atul Mishra, 50, was present at the Aam Aadmi Party (AAP) rally in Mumbai on Wednesday, strumming his guitar and singing patriotic songs.
First seen at Andheri station, this professor of mathematics soon became a crowd-puller at the rally.
"Arvind is an honest man. This party is not matured. It is like a baby, and babies are non-corrupt. I hope AAP wins and creates an impact in Indian system," said Mishra. "Music has a binding power. I want to use that power effectively," he added.
As Mishra reached Nana Chowk along with the rally, some AAP workers noticed him and asked him to join them on the tempo. From Grant Road to Khilafat House, the public sang along with him. Of all his songs, the public seemed to have enjoyed 'Mera rang de basanti chola' the most.
"This is the love of the party people, that they have accepted my talent," said Mishra as he accompanied the party workers, patriotic songs, guitar et al, to their next rally at Vikhroli.