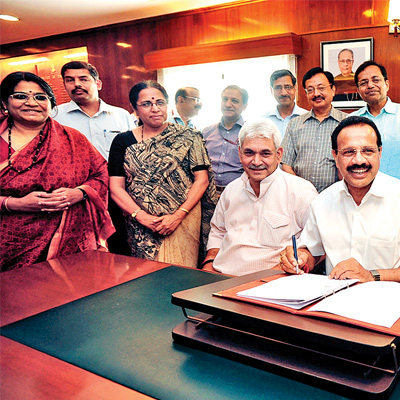 Union railway minister Sadanand Gowda is likely to roll out prime minister Narendra Modi's 'ideas train' on Tuesday. Rail budget 2014-15 will carry the Modi stamp, from railway station to level crossings. Bullet trains might be on the menu. Trains will run at high speeds on solar panels. A railway university is on the cards. Ex-servicemen will man level crossings. Foreign Direct Investment (FDI) in railways will get the green signal.
Long-distance trains with private investment is likely to be introduced in the budget, according to railway ministry sources. FDI in railways is definitely on, the source said.
The proposed railway university will train personnel in technical matters concerning the railways, including the building of long-distance tunnels.
The budget is likely to lay out standards for cleanliness, and catering. CCTV cameras will monitor the cleaning regimen. The prime minister has set 2019, Mahatma Gandhi's sesquicentennial, to get all of India 'clean'. Bio -toilets which do not use water, like those in aircraft, is likely to be introduced. The model has been developed by Railways' Development Standards Organisation in tandem with Defence Research and Development Organisation (DRDO). Manufacturing of bio-toilets will be outsourced.
Catering will also be outsourced. It has been tried before. But, from now on, there will be strict monitoring to ensure that catering standards remain of the highest order.
Hundreds of base-kitchens in stations across India, which are lying unused, may be rented out to private parties. Or it will be used to cook midday meals for schools. It's an idea that can either earn the railways money or serve a public purpose.
Tunnels are likely to be dug to connect Char Dhams – Badrinath, Kedarnath, Yamunotri and Gangotri -- to safer and faster. Officials are not too sure as to how feasible such a project will be. Henceforth, all tickets will carry the legend "Subsidy of Rs ... borne by the Railways'. Also, ex-servicemen are likely to be drafted to man level crossings. About 2.1 lakh ex-servicemen are likely to be recruited for such jobs.
Solar panels on trains will do the harnessing, not only for trains but excess power generated will be sold for a profit. Modi had spoken of it when he went to inaugurate the Udhampur-Katra train last week.
Apparently, Modi also wants the weight of goods train wagons to be cut drastically. A regular goods train wagon has a tare weight (empty container weight) of 25-30 tonnes. The railway budget may suggest wagons made of plastic! That will bring down tare weight to just 5 tonnes. "But safety has to be ensured and they must be tamper-proof. That will have to be checked," said the source.
Either way the Gowda budget is likely to show the way to the next level for the Railways which has been used as a political toy all these years.