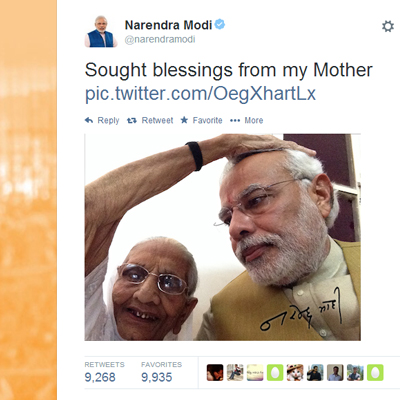 The social media has undoubtedly been abuzz since morning as the counting began on Friday morning and to a great extent it is this very same social-virtual-network that PM designate Narendra Modi used to reach his destination. Experts say Modi used the language of the youth to reach out to them. Using technology to reach out to the masses was one major setback.
The top election trends on Twitter since Friday morning have been #Modiheadsto7RCR, #Results2014, #ModifiedIndia, #Mission272.
#Modiheadsto7RCR was used in 19,943 tweets while #ModifiedIndia was used in 13,351 tweets. The social media also clearly indicated the sentiments of people around Modi on Social media was way higher as compared to other political leaders.
Here's a look at the latest tweets of the aam janta congratulating and expressing their views on their new PM's victory
#CongratsNaMo for Mission 272 accomplished & #Modiheadsto7RCR after he buries opposition in TsuNaMo

— Sandeep Rathee (@SandeepRatheeny) May 16, 2014
I hope people realise that with this victory, Modi is one of the most powerful world leaders today! #Results2014 #Modiheadsto7RCR

— Arvind A (@factorator) May 16, 2014
First time ever 7,RCR will have a vegetarian PM. #Modiheadsto7RCR

— Rajesh Jagasia (@rajeshjagasia) May 16, 2014
One serious question : Are we allowed to criticize the Prime Minister and the Government from today? #Results2014 #Modiheadsto7RCR

— Tinu Cherian Abraham (@tinucherian) May 16, 2014
Watch this video for further details on the Social Media trends