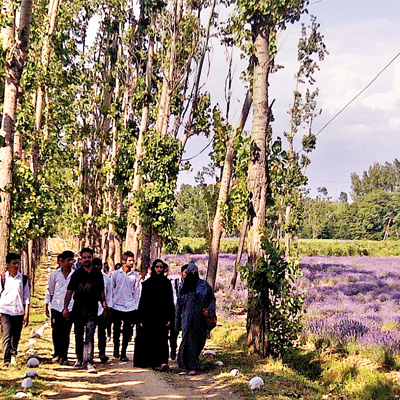 The precious and costly Kashmir saffron, the costliest spice in the world (Rs150 -Rs 200 a gram, used as cooking and colouring ingredient) may soon have to share its glory with another Kashmir species, the lavender flower which has rare medicinal qualities and is also used as fragrance. Lavender grows profusely in an estimated 300 acres in Kashmir and Chenab valley and one kg of lavender oil sells at Rs10,000. A 5 ml value-added bottle of lavender oil blended with other ingredients sells for Rs 200.
In a bid to popularise the use of the lavender flowers which lends its purple hue and breathtaking beauty to the valley, the Indian Institute of Integrative Medicine (IIIM), Kashmir, held an international festival last week, similar to such festivals held in US, Australia and France to woo entrepreneurs and tourists.
The festival included farm tours and demonstrations of end-to-end technologies of value- added aroma products and details of how to grow Kashmir lavender, which is giving tough competition to lavender-based products from the West.
"It is the first attempt to organise the lavender festival in India. Basically, we are popularising lavender farming by organising the festival. The people who visited the festival include students, entrepreneurs, tourists and farmers", said Dr YS Bedi, chief scientist and Head IIIM branch laboratory at Srinagar.
Lavender is extensively used in aroma and medicine industry. The best perfumes in the world contains lavender as one of the ingredients. It is also used by the people who suffer from sleep disorder and sinusitis.
"If you apply lavender oil on your temples, it can give you a soothing effect and a sound sleep. What people do is that they use dry lavender flowers, put them in pouches and place under their pillow. So at night they will have sweet aroma which gives them a sound sleep", said Dr Bedi.
Like saffron, lavender, too, is used in different cuisines across the globe. "In the festival, we had lavender cookies, lavender breads and ice-cream. One of the entrepreneurs' prepared lavender cookies which were sold like hot cakes ," said Dr Bedi.
Elated by the response, the organisers have decided to make the Lavender festival an annual feature. The idea is to colloborate with the tourism and floriculture departments next year.
Experts say that the festival would eventually help in developing Kashmir lavender as an international brand. "It would be of equal interest to the general public and students for getting a first-hand knowledge about these high-value crops and the existing opportunities in this area", said Dr Tej Pratap, vice-chancellor, Sher-e-Kashmir University of Agriculture Sciences, Kashmir.
If the brand catches on, lavender-like saffron can spread a soothing fragrance over the restive valley.