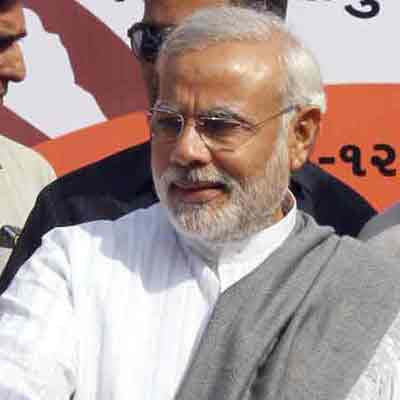 The BJP's prime ministerial candidate had refused to put on a Topi (Muslim skull-cap) offered to him by an Imam at his Sadbhavna programme in Gujarat. That incident took place way back in 2011 and the media had played it up then and it continues to do so even today.
Narendra Modi has been criss crossing the country to campaign for the on-going 16th Lok Sabha election. And on many occasions, he has sported the traditional headgears of various regions while addressing the rallies. This has many a times sparked off debate if he can wear the regional headgears, why can't he wear a topi?
This debate is back in focus again because Narendra Modi has cited Jawaharlal Nehru, Sardar Vallabhbhai Patel and Mahatma Gandhi in a reply to a question in a TV interview on this much talked about topi. According to Narendra Modi, these stalwarts had never worn topi to showcase their secular credentials and this practice of wearing topi is nothing but appeasement. He also admits in the same breath that he respects all religions and their traditions.
But his detractors have sharpened their knives to attack him again. If various regional headgears are okay, then why not topi? The reason for Narendra Modi's refusal to accept topi has got nothing to do with communalism. It is not that his supporters will desert him overnight if he puts on a topi and poses for the shutterbugs. It is not that his so-called core constituency that believes in hardcore Hindutva will be upset with him and there will be a remarkable dip in his popularity just when he is on the verge of getting elected as India's next prime minister.
Narendra Modi always likes to maintain tight lipped silence on certain contentious issues. Instead of his words, he believes in letting his work speak for him. He knows that his answers will raise more questions and more questions will, in turn, invite more controversies. Similarly as far as the topi is concerned, for the first time, he has broken his silence and his answer to the topi question has already grabbed the headlines for all the wrong reasons. When the front runner for India's topmost job speaks, we should concentrate on his economic, diplomatic and security vision for the country. Alas the irony cannot help but stare us in the face when all it takes to get the entire country's knickers in a twist is an answer mentioning topi which is selectively leaked from the interview to get the viewers' attention.
That said, to understand Narendra Modi's refusal to put on topi, one should be able to view religion and politics separately. Narendra Modi has noticed how the topi wearing politicians have used the Muslims as a vote bank. He knows that the gimmick of wearing a topi is only for the shutterbugs. As we have observed that the leader wearing topi is not necessarily Muslims' well-wisher at the core of his heart. And there is no guarantee that after getting elected he will do something useful for the betterment of the community. A topi wearing leader has come to be a symbol of greed for votes of a particular community. And as soon as the elections are over, he will forget this community as easily as one removes topi from his head.
This is precisely why Narendra Modi has till now refrained from touching the topi because that will mean that he too believes in politics of appeasement and development is just a facade to mislead the world. His refusal to budge from his belief that an act of wearing topi amounts to cheating and playing with voters' religious sentiments sends out a strong signal to the Muslim constituents that the man will not deviate from his core agenda of development for a handful of votes. That said, if anybody who wants to join the mainstream without expecting any external religious symbols is most welcome to join the Modi juggernaut. What is wrong with this posturing?