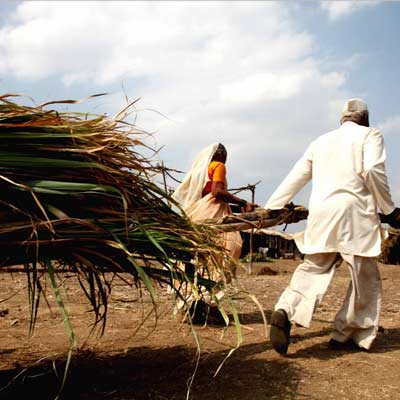 As the 22 districts of Maharashtra state continue to face drought-like conditions arisen due to delayed rains and depleting water levels, Six farmers from Marathwada region have committed suicide.
With an expectation that the rain would arrive early, the farmers of Marathwatha region had sowed seeds in farm. But even as the June month ended and the expected rainfall did not happen, the farmers – Madhukar Mahajan, Shivaji Maanisange, Ramchandra Kadam, Kalyan Thote, Vijay Tayde and Bhagwan Pawar who were already debt-ridden took the harsh step and committed suicide.
Madhukar Mahajan of Nanded, Kalyan Thote of Jalna and Bhagwan Pawar of Beed who feared increasing financial burden committed suicide by consuming poison.
Currently, Maharashtra has limited reserves of water, which will last only for the next 45 days. At present, the Konkan area has water storage of 28%, Marathwada 17%, Amravati 30%, Pune 13% and Nashik 15%.
Compared to last year, Nashik has reported 0% sowing. There has been sowing only on 44 hectares of land, which is nominal.
The Deputy Chief Minister Ajit Pawar has asked farmers and there families not to worry about loans and should not get demoralised as the rain is delayed.
So far, a total rainfall of just about 28 mm has been recorded in all the five districts in Nashik division (Nashik, Dhule, Nandurbar, Jalgaon and Ahmednagar), while the average expected rainfall is 155mm.
Meanwhile, the central government is planning to work out a separate plan along with the state governments for drought-prone regions, such as Vidharbha, to ensure there is no shortage of drinking water and fodder.
To make the water available, the state government has also started acquiring wells that have better storage. Till now the government has acquired 1,237 wells. Maximum number of 428 wells belongs to Marathwada region.
Nandurbar district has recorded the lowest rainfall in the month. Compared to the last year, it is 89% lesser, followed by Hingoli, Mumbai.
Water reserves in big reservoirs
Jaayakwadi: 4 %
Yeldari: 40 %
Siddheshwar: 0 %
Majal Gaon: 0%
Manjara: 0%
Pen Ganga: 44%
Manar: 19 %
Vishnupuri: 10 %