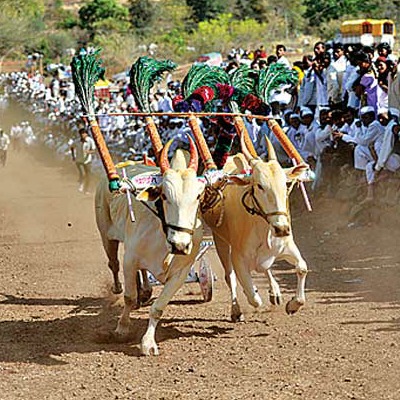 Union Minister of state with Independent Charge for environment, forests and climate change Prakash Javadekar on Saturday assured that he would do the needful for resuming the bullock-cart races by sorting out the technical issues involved in this matter.
Shiv Sena Lok Sabha MP from Shirur Shivajirao Adhalrao-Patil led a delegation which called on Javadekar at his residence in Pune. Adhalrao-Patil pointed out that Maharashtra especially Pune district has a tradition of bullock-cart races for over 300 years. He said that the races are organized during the village fairs which are associated with the religious festivities. He pointed out that people from all religions and communities participate in village fair and the races.
The MP pointed out that a notification under section 22 was issued in 1991 banning training and exhibition of bears, moneys, tigers, panthers and dogs. He said that after the Indian Circus federation challenged this, corrigendum was issued and dogs were excluded from this notification. He said that the Prevention of Cruelty to Animals Act of 1960 does not disallow bullock cart races but due to confusion arising out of inadequate understanding of the Central Government notification dated July 11, 2011. This notification was applicable for non-castrated bulls which are referred to as Saands and not for castrated bullocks which are referred to as Bail. Javadekar assured the delegation that he would do the needful in best possible way to once again start bullock-cart races.