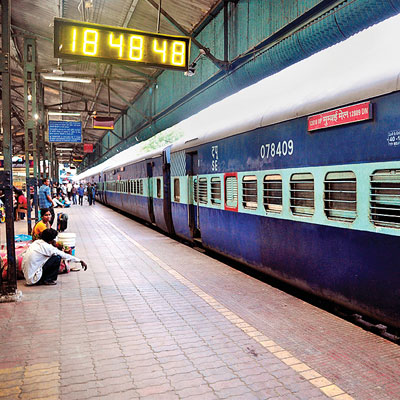 A rift has occurred between the Shiv Sena and the BJP over the rail fare hike. BJP leaders admit in private that the steep jump has changed the pro-saffron mood which had given the Sena-BJP combine a thumping victory in the Lok Sabha polls.
A BJP legislator told dna, "Over 75 lakh people travel by local trains daily. By raising the cost of season tickets we have let them down." A senior RSS worker who has been taking up commuters' issues for the past 25 years said: "I hold railway minister Sadanand Gowda responsible for causing damage to BJP's image. If corruption in the railways is reduced by just ten per cent, enough money will be generated and there would be no need for a fare hike."
The Sena, on its part, has distanced itself from the decision lest it dents its prospects in the assembly polls scheduled for October. Sena chief Uddhav Thackeray said the increase was shocking. "I will call on Prime Minister Narendra Modi and press for a rollback. Our party MPs will meet the railway minister and ask him to take back the decision."
Sena mouthpiece "Saamna" front-paged on Sunday protests against the fare hike. The party is already upset with Modi for giving it one ministerial berth – heavy industries portfolio to Anant Geete. It is learnt that Geete had told Modi that his ministry was not 'achcha' (good) to which the latter had reportedly retorted: Toh aap usko achha banao.
Sources said Sena is particularly piqued at TDP, a recent ally of BJP, being given the all-important civil aviation ministry. However, it kept quiet to avoid a controversy in the initial days of the new government.
Sources said Sena's stand on the fare issue stems from the fact that the party wants its popularity graph to remain unaffected before the state polls, especially when it wants Uddhav to be projected as the CM candidate.
Meanwhile, following Gopinath Munde's death, BJP is struggling to get a leader with mass appeal who can be projected for the top post.