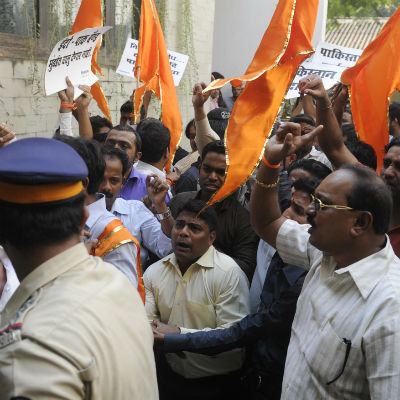 A number of Shiv Sena workers demonstrated against the invitation sent to Pakistan PM Nawaz Sharif sent for PM-designate Narendra Modi's swearing in.
The protest, which was led by J&K Shiv Sena Chief Ashok Gupta, who has voiced his discontent with the invitation sent to the Pakistan prime minister.
It has been reported that an effigy of Sharif was also set on fire.
With Shiv Sena and MDMK in the NDA, Narendra Modi talks of friendly relations with Pakistan and Sri Lanka. Irony, Irony, where art thou?

— V.B. Routray (@Saving_Figaro) May 23, 2014
@rahulgrover88 @India_Progress @sauraviiser Modi revived Shiv Sena. Shiv Sena was almost dying election by election. He should thank Modi.

— Sunil Jangir (@suniljangir) May 23, 2014
#Horselaugh: Shiv Sena chief thinks their success was their own! ok,then tell us why ur candidates were telling people they represent MODI

— Sucheta Dalal (@suchetadalal) May 23, 2014
This is not the first criticism that has come the BJP's way for the invite. Modi's invite to Pakistan Prime Minister Nawaz Sharif received flack from many leaders of the opposition, some even calling the move hypocritical. On the grounds of his complaint was that similar attempts had been made by Manmohan Singh which received a great deal of criticism by the BJP.
Invites however have been sent to about 3000 leaders including those of Pakistan and Bangladesh.
Narendra Modi will be sworn in on May 26 in an election that has drastically altered the make up of the lower house.