BJP party credibility could be hurt by the rift between Shiv Sena and BJP: Shiv Sena.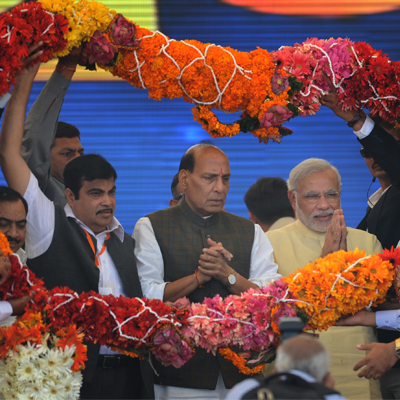 Indicating that the rift between Shiv Sena and BJP over Gadkari overtures to MNS persisted, Sena charged BJP with trying to shortchange its allies by cutting deals with rivals. This could erode that party's credibility and hurt the chances of its prime ministerial nominee Narendra Modi, Sena said.
It had never betrayed its friends and had even spurned an offer in the 1990s from BJP rebel Shankersingh Vaghela to form a Sena government in Gujarat, it claimed.
A Sena MP admitted that despite BJP's fire-fighting to placate Uddhav, the bitterness lingered.
However, former state BJP chief Sudhir Mungantiwar pointed out that Shiv Sena and MNS had joined hands at several places like Thane, Ambernath and Kalyan-Dombivali.
He added that BJP had held its peace even when Sena broke ranks to support Pratibha Patil and Pranab Mukherjee in the presidential polls and even voiced support to NCP's Sharad Pawar as PM because he is a Maharashtrian. Sena should hence exercise restraint when commenting on BJP, said Mungantiwar.
An editorial on Thursday in Shiv Sena mouthpiece Saamna, of which Uddhav Thackeray is the editor, claimed that when BJP rebel Shankersingh Vaghela wanted to form his government in Gujarat in 1996, he had approached late Sena chief Bal Thackeray seeking to join Sena, but he was rebuffed.
"After watching the flirtations in Maharashtra, one can't help but remember the Vaghela episode. Balasaheb, who shunned Vaghela for betraying BJP, and BJP leaders cosying up to those who betrayed the Sena chief in his lifetime cannot be compared," the editorial said.
Later in the day, without naming Gadkari, Uddhav asked BJP to reign in its leaders who were causing fissures in an otherwise smooth relationship.
The editorial further said that though senior BJP leaders had tried to mend fences, there was no guarantee that these issues would not come up again. Pointing out that despite being a national party, BJP stood on the shoulders of regional players like Sena, the editorial hinted that the party had been back-stabbing allies in Haryana and Andhra Pradesh and building bridges with their rivals. It lamented BJP not having people like the late Pramod Mahajan, who could take allies along.
"The ripples in Maharashtra were felt across the country and questions are being asked whether BJP valued friendship and trust," the editorial said.
A Sena MLA also admitted that BJP's moves had led to Sena-BJP combine now focusing more on this issue rather than taking on Congress-NCP.