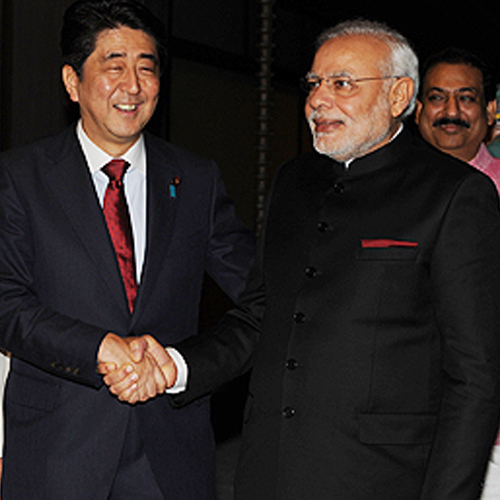 Prime Minister Narendra Modi, today witnessed the signing of the Varanasi-Kyoto Partner City affiliation MoU between the Governments of India and Japan at the State Guest House Kyoto. The agreement was signed by Deepa Gopalan Wadhwa, Ambassador of India in Japan, and Mr. Daisaku Kadokawa, the Mayor of Kyoto.
The MoU focuses on heritage conservation, and cooperation in art, culture and academics. It will also serve as a framework for the smart heritage cities programme.
The Prime Minister was received by Shinzo Abe, the Prime Minister of Japan at the State Guest House in Kyoto. Mr. Abe travelled from Tokyo to Kyoto to personally receive the Prime Minister.
Narendra Modi also fed fish at the State Guest House in the presence of the Japanese Prime Minister, who hosted a dinner for Modi.
Earlier today, the Prime Minister arrived at Kansai International Airport, Osaka. He was received by Yagi, Ambassador of Japan in India, and Yamazaki, Chief of Protocol, Ministry of Foreign Affairs, and the Ambassador of India in Japan, Deepa Gopalan Wadhwa.
Read the analysis here: Narendra Modi's Japan visit: Will new inroads be made in Indo-Japanese strategic ties?
Japanese PM Shinzo Abe hosts dinner for Narendra Modi at Kyoto
In the elegant setting of the Imperial Guest House in Kyoto, Prime Minister Modi sat down with his host, Prime Minister Abe, at a traditional dining table for over one and half hours for an exceptionally warm and friendly conversation over a traditional Japanese meal this evening. Their discussion was marked by a great deal of mutual respect and admiration and convergence of views.
The two Prime Ministers spoke about the ancient cultural and religious links between the countries, which were not known widely. They felt that the commencement of Prime Minister Modi's visit in Kyoto, the old capital city and an important centre of Buddhism, highlighted this important spiritual foundations of India-Japan relations. They both keenly looked forward to visiting the ancient Toji Temple, which was a symbol of this link, the following morning. The MoU between Varanasi and Kyoto, signed earlier in the evening in their presence, was yet another reflection of working together to foster cooperation to address contemporary challenges on the strength of their shared heritage.
Prime Minister Modi also mentioned his plan to visit Centre for iPS Cell Research in Kyoto the next morning as part of his desire to seek advanced solutions through stem cell research for health challenges he had seen in India.
Prime Minister Abe spoke with great enthusiasm and strong conviction about India and the importance of India-Japan relations for Japan and the region. Prime Minister Modi described Japan as one of India's closest and most important partners and spoke about his own admiration and affinity for Japan and his high hopes from the relationship.
The discussions covered Modinomics and Abenomics, and the opportunities that both countries had to seize the opportunities presented by their respective strong political mandates to inject new momentum and energy in their economies. They spoke with great optimism about a strong and robust future for India-Japan economic partnership. Prime Minister Modi observed that the relationship was far below potential and expressed hope that the two sides would strive to achieve in five years the unrealized potential of five decades.
Prime Minister Abe expressed confidence that under Prime Minister Modi India's economic transformation would gather strong momentum. An economically resurgent India would, he said, be of great strategic importance to the region and the world, and an inspiration for democratic forces around the world. Prime Minister Modi said that a strong India-Japan partnership was important not just for the economic benefits to the two countries, but even more as a force of good for the region and the world.
The two leaders also had an extensive and candid exchange of views on the developments in the region and the world and saw in their remarkable convergence of views a great opportunity to work together for peace, stability and prosperity in Asia and the world.
Prime Minister Modi was deeply touched by Prime Minister Abe's gesture of hosting him in Kyoto. They looked forward to continuing their conversation in Tokyo.
India, Japan sign MoU to develop Varanasi into 'smart city'
Varanasi, which Prime Minister Narendra Modi represents in the Lok Sabha, will be developed into a 'smart city' by using the experience of Kyoto, the 'smart city' of Japan, under a pact signed here today. A Partner City MoU was signed by Indian Ambassador Deepa Wadhwa and Kyoto Mayor Daisaka Kadokawa at a ceremony witnessed by Modi and his Japanese counterpart Shinzo Abe.
The MoU, which was signed soon after Modi's arrival here on a five-day visit, provides for cooperation in heritage conservation, city modernisation and cooperation in the fields of art, culture and academics, External Affairs Ministry spokesman Syed Akbaruddin told reporters This will serve as framework for Smart heritage city programme between the two countries, he added. Kyoto, which is a heritage city with Buddhist culture, provides special symbolism to the visit as the Prime Minister has the vision of "rejuvenating" Indian cities.
Narendra Modi arrives in Japan; Talks on nuclear pact, defence, infrastructure on agenda
Prime Minister Narendra Modi on Saturday embarked on a visit to Japan which is expected to open new vistas in the bilateral ties and take the Strategic and Global Partnership to a higher level.
On his first bilateral visit outside the subcontinent as the Prime Minister, Narendra Modi has a substantive agenda during the five-day trip which he hopes will "write a new chapter" in the bilateral relations and cooperation in the fields of defence, civil nuclear and infrastructure besides commerce.
Underlining the importance of the visit, the "excited" Narendra Modi said on the eve of the trip that Japan has "paramount importance" in his vision for India's development and progress.
In the first leg of his visit, the PM will travel to Kyoto, the 'smart city' of Japan, to see the experiment there considering that he intends to build 100 smart cities in India. In a special gesture, Japanese Prime Minister Shinzo Abe will fly to Kyoto to receive Modi there.
PM Narendra Modi to bring Kyoto experience to Varanasi
On the eve of his visit, Prime Minister Narendra Modi on Friday said Japan has "paramount importance" in his vision for India's progress and his trip will "write a new chapter" in bilateral ties while taking the Strategic and Global Partnership to the higher level. Cooperation in the fields of defence, civil nuclear, infrastructure development and rare earth materials will top the agenda of Modi's five-day visit beginning tomorrow, his first bilateral trip outside the subcontinent.
"I am keenly looking forward to my visit to Japan at the invitation of my good friend, Prime Minister Shinzo Abe, for the annual summit between India and Japan," Modi said in his pre-departure statement. Noting that this will be his first bilateral visit outside the immediate neighbourhood as Prime Minister, he said it underlines "the high priority" that Japan receives in India's foreign and economic policies. "It is also a reflection of Japan's paramount importance in my vision for development and prosperity in India and in peace, stability and prosperity in Asia at large," he said.