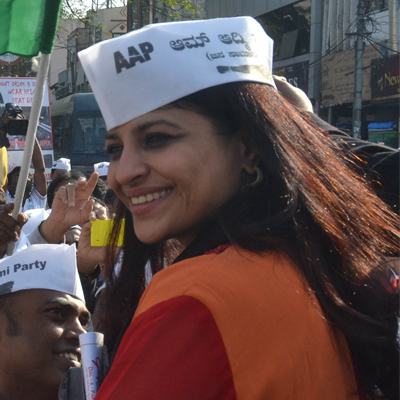 In the video, Aam Aadmi Party's Shazia Ilmi is seen asking some Muslim leaders to vote for the AAP instead of Congress. She says, "Muslims are too secular and should be communal which is for their own good." after which she is also adds, "I know it's controversial, but it's also necessary".
She then defended herself by saying that it was only a play of words, and that she was asking people to vote for Arvind Kejriwal, who is not a Muslim. She went on to say, that she was only making fun of people who say that Muslims are communal, and that communalism doesn't mean inciting hatred.
Ilmi who is in the fray from Ghaziabad, is also one of the most popular leaders in AAP. She had lost her seat in the Delhi 2013 Assembly elections by a mere 326 votes. The video which is being shared widely on social media, has spelled trouble for Ilmi and AAP, as it has been the subject of widespread criticism from people all over.
Here are some Twitter reactions to the video
Shazia IImi's latest comments asking Muslims to be communal is very shameful and derogatory. She should be immediately disqualified.

— Bishal Paul (@BuiSpeaks) April 22, 2014
Shazia Ilmi was projected as face of AAP's secularism. But on second thoughts, this is exactly the face of secularism.

— Rahul Roushan (@rahulroushan) April 22, 2014
Shazia Ilmi type leaders can tun into "secular" to "Communal", Honest to Corrupt,depending on "environment" and "opportunity". Epic Fall

— narendra nath (@iamnarendranath) April 22, 2014
Why is all the "secular" junta silent on Shazia ilmi's statement today?..let me guess..coz she is not from BJP?? #ArrestShazia

— Aditya Bansal (@ab_rational) April 22, 2014
Well done Shazia Ilmi. You prove, beyond any doubt now, that AAP is the worst mistake in free India since Congress' dynastic politics!

— Sharan Rangarajan (@sharan2_1) April 22, 2014
I don't know if Congress-BJP are Bhai-Bhai but after listening to what Shazia Ilmi said today, I am sure BJP-AAP are Bhai-Behen.

— Ajatshatru Sharma (@TheAjatshatru) April 22, 2014
Here is the video: