Initial reports suggest that Sunanda Pushkar Tharoor may have committed suicide in her hotel room in the wake of the alleged affair between her husband Shashi Tharoor and Pakistani journalist Mehr Tarar.
A day after Twitter controversy, Union minister Shashi Tharoor's wife Sunanda Pushkar was found dead at 8.30 pm IST in New Delhi's Leela Hotel, where she had moved due to construction work in her house.
Shashi Tharoor arrived at the hotel where he was called by the police upon finding the body of Sunanda Tharoor. Initial reports suggest that Sunanda Pushkar Tharoor may have committed suicide by hanging herself as there were no external injuries found on the body. The cause of death is unknown and will be known only after the post-mortem tomorrow.
The Minister's private secretary Abhinav Kumar is said to have telephoned the police control room after which personnel from Sarojini Nagar police station rushed to the hotel.
Kumar told reporters at the hotel that Tharoor and Pushkar were staying in a suite since yesterday as some painting work was on at home. The Minister was away throughout the day in the AICC meeting which ended at 5pm, he said.
When he came back around 8:30 PM, he found the door of her room inside the suite locked from the inside. She seemed to be sleeping in a normal way but later it was found she was dead.
Sunanda Pushkar Tharoor, had posted a series of private messages (see image below) between Shashi and Pakistani columnist Mehr Tarar on his timeline.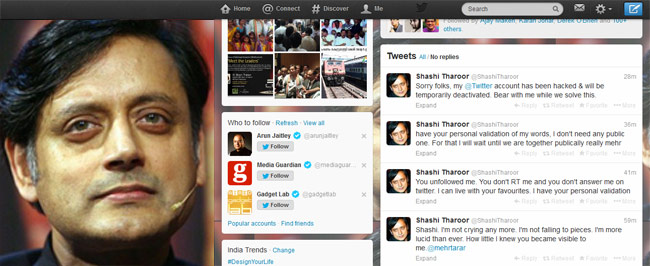 Pushkar was unhappy after reading the messages. She claimed that Mehr had been stalking Shashi and that she was an ISI agent.
Later, Shashi Tharoor claimed that his Twitter account had been hacked and the Tharoors issued a joint statement on Facebook telling the media to respect their privacy.
Sunanda posted about Mehr:
"for her information Shashi an& I are very happy together sad for her to know i guess i get sick and go away 4 treatment &the vultures pounce."
"My husband @ShashiTharoor &I are very happy so a Mehr isn't going 2bother me all her lies on TV amused me"
"sadly it's not the men it's the woman who hit on a man when the wife is out 2 get treated how gross"
Police sources say that she was found sprawled on a bed in room 345 at The Leela Palace hotel in south Delhi.
Earlier, Shashi had said she was undergoing treatment. "My wife's illness means i need to be with her&will miss all 5 events of #JaipurLitFest 2014. Have promised to atone in 2015," he tweeted a few hours before she committed suicide.
She was suffering from Lupus and had been diagnosed with stomach TB. Reporters who interviewed her yesterday say she was composed and didn't appear to be depressed. She also flatly refuted any suggestions that Shashi had an affair with Mehr.
But Sunanda's timeline revealed that she was furious and depressed after learning about her husband's BBM conversations with Mehr Tarar.
Sunanda tweeted the following:
@MehrTarar leave us Indians alone and stop talking to my huband and pleading with him its digrading respect youself as a women.
its funny on a election yr ppl want to bring down an MPusing a Paki journo who has lost her job and tries with everyone including with Omar.
the audacity of a woman desperaely in love with an Indian "please shashi dont make me go i pleaded and begged i love u Shashi "
Mehr reacts on hearing about Sunanda's death
Mehr Tarar has tweeted after the news of Sunanda's death was broken.
"What the hell. Sunanda. Oh my God," she shared.
"I just woke up and read this. I'm absolutely shocked. This is too awful for words. So tragic I don't know what to say. Rest in peace,Sunanda," she said in another tweet.
It appears that Pakistani columnist Mehr Tarar first met Shashi Tharoor in April this year to interview him. She even tweeted at him after the interview and said that it was a pleasure meeting him. Shashi then replied that he was glad to meet his Twitter friend Mehr in person.
Mehr Tarar then praised Tharoor comparing him to Pakistani ministers. She tweeted: Wonderful meeting you and the rest of your office people. Wish our ministers behaved like you!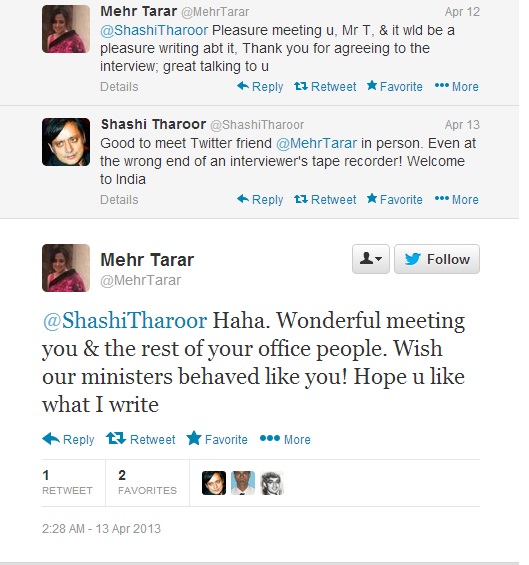 Shashi Tharoor's son Ishaan has also tweeted: I would request that everyone please respect our family's privacy at this moment.
Earlier in the day, Tharoor was present at the day-long AICC session which ended around 5 PM.
Sunanda's first husband Sanjay Raina was a Kashmiri but the marriage did not work, resulting in a divorce. Later she married a Kerala businessman, Sujith Menon but he died in a road accident.
Shashi Tharoor tied the knot with Dubai-based entrepreneur Pushkar in a typical Malayali wedding ceremony in his ancestral home at Elavanchery village in Kerala in August 2010. They held their reception in Delhi.
After Sunanda Pushkar's death, Police question hotel staff and check CCTV footage
Must read: Cause of Sunanda Pushkar's death not clear, says Shashi Tharoor's personal secretary
Also read: Sunanda Pushkar was seriously ill: Former diplomat TP Sreenivasan
Security cover beefed up at Shashi Tharoor's Thiruvananthapuram office and home in Kerala
With inputs from agencies