The controversy over the death of ex-Union minister Shashi Tharoor's wife Sunanda Pushkar continues, after a dramatic claim by AIIMS doctor Sudhir Gupta that there was 'pressure from outside' (from a ministerial colleague of Shashi Tharoor, namely Ghulam Nabi Azad) to change the autopsy report of Pushkar's death was rejected by AIIMS on Wednesday.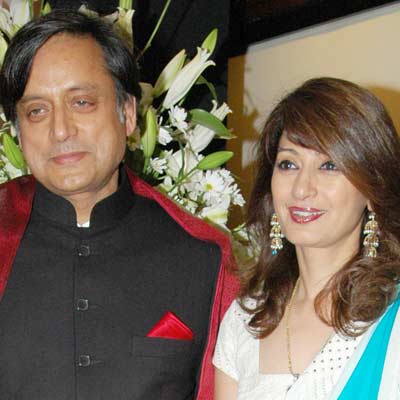 Latest updates:
Did Shashi Tharoor delete Blackberry messages before Sunanda Pushkar's death? Nalini Singh says so
In an explosive revelation, senior journalist Nalini Singh has said that Sunanda Pushkar was tensed and crying hard hours before her death. Notably, the TV journalist was the last person Sunanda called from her mobile. In an exclusive conversation with Zee Media, Singh said she received a call from Sunanda at 12:10 am on January 17, hours before she was found dead in the room of a five-star hotel here. "At 12:10 am on January 17, I received a call from Sunanda. She was crying hard and was very tensed. I thought it is because of the then ongoing Twitter spat between her and Pakistani scribe Mehr Tarar. But Sunanda told me that Shashi has deleted messages from his BlackBerry phone. She said that as a media person, I should help her in retrieving those messages... But let me tell you that Sunanda discussed about Tarar with me six months back also during a dinner at her place." Watch the full interview here
Now, Dr Sudhir Gupta insists that Sunanda Pushkar's postmortem report was based on principles and norms of medical ethics
Dr Sudhir Gupta, who had alleged that Sunanda Pushkar's autopsy report was doctored, said today that Sunanda Pushkar's postmortem report was based on principles and norms of medical ethics. Gupta further said, "If you want my version, let me take the permission of the competent authority of AIIMS, because this is a serious legal issue. I want to clarify, not only post mortem of Sunanda Pushkar, any post mortem report prepared by me are based on ethics laid by the medicine. They are best on principles and practice of medicine." Read more
Does the key to the Sunanda Pushkar death probe lie in the unexplained injection mark?
The sensational claim by head of forensic department at AIIMS, Dr Sudhir Gupta, that he was pressurised to fabricate the autopsy report of former union minister Shashi Tharoor's wife, Sunanda Pushkar, once again raises doubts on the unexplained injection mark on her right wrist." Sunanda's body had 15 injuries, all of them caused over a span of 12 hours before her death. Injury number 12 was caused by a teeth bite. All the injuries "were caused by blunt force, simple in nature and not contributing to death, except injury number 10, which is an injection mark," reads the report. After Dr Gupta's statement, union health minister Harsh Vardhan has sought a detailed report from the All India Institute of Medical Sciences. The hospital administration has refuted Dr Gupta's claims. Dr Gupta headed the team of forensic experts that had conducted the post-mortem on Pushkar. Read more
Shashi Tharoor evades questions on Sunanda Pushkar's autopsy row
After the controversy re-erupted, former Union Minister Shashi Tharoor on Wednesday refused to answer media queries on the allegations made in the autopsy case of his wife Sunanda Pushkar.
Ex-Union Minister Shashi Tharoor reacted in a Facebook post to the allegations by AIIMS and said, "Upon the tragic loss of my wife Sunanda and from the very beginning, I have requested for a thorough investigation by the authorities to be conducted and concluded rapidly and transparently. The Pushkar family has taken the same view and we have all fully co-operated with the authorities. I reiterate my request to bring this protracted inquiry to a clear and definitive conclusion at the earliest, so as to put all speculation to rest."
According to a report published in a website, Gupta, who was heading the panel that conducted the post-mortem of Sunanda, has filed an affidavit in the Central Administrative Tribunal (CAT) stating that he was pressurised by former union minister and president of AIIMS Ghulam Nabi Azad to act in an "unprofessional" manner to cover up the matter.
Gupta has further claimed that he was not able to state the truth in his report due to the influence of two ex-powerful Cabinet ministers Shashi Tharoor and Azad.
The report quoted the affidavit saying, "(The) applicant could not muster courage of openly placing the facts in black and white as the former president of AIIMS Shri Gulam Nabi Azad was an immensely powerful politician and then the health minister and the husband of late Sunanda Pushkar was also a minister and a powerful politician." Gupta in his application has asked CAT to allow him to give his views in sealed envelope. Interestingly, Dr Gupta's disclosure comes at a time when has been slapped with charges of plagiarism and misconduct.
Rejecting the charge of Sudhir Gupta on Wednesday, the AIIMS said it "categorically denies" his claim. AIIMS spokespersons Amit Gupta and Neerja Bhatla said there was no evidence that any pressure from outside was put on him (Sudhir Gupta) to alter the autopsy report. Gupta had also written to current Health Minister Harsh Vardhan against a government move to promote a faculty member which, he alleged, was started under the then UPA government so that he could be removed as the head of the department as he did not change the post mortem report.
No FIR has been filed in the case since the Delhi Police ruled out the need for one, way back in March. The autopsy report had mentioned more than a dozen injury marks on Sunanda's both hands and an abrasion on her cheek which suggests a "use of blunt force", besides a "deep teeth bite" on the edge of her left palm. Viscera samples were preserved after the autopsy at AIIMS and were sent to CFSL for further tests.
The CFSL report hinted at drug poisoning but its findings were not conclusive enough to file an FIR in the case, according to police. The search and seizure memorandum of the police, which is a part of the report, mentioned finding of mix of two drugs - Alprazolam and Excedrin. Excedrin is a combination of acetaminophen, aspirin, and caffeine while Alprazolam is an anxiolytic.
Amazingly, the viscera and toxicology tests conducted at the government forensic laboratory ultimately ruled out poisoning or drug overdose as the cause of death. The toxicology report said it found no traces of drugs in Pushkar's system, though all but three of the Alprax strips had been found to be empty. The report said that Sunanda Pushkar consumed 2-3 tablets a day, which was normal, and the death could have been due to cardiac arrest due to a variety of factors, including Pushkar's stressful lifestyle. The paradox between the AIIMS findings and those of the government laboratory have not been explained fully. Moreover, the forensic laboratory did not cooperate with AIIMS when asked about the viscera reports. Also, the Delhi Police has also not investigated into the injury marks on Sunanda Pushkar's hands and the 'abrasion on her cheek' as well as a 'deep teeth bite' on her left palm. The most interesting mystery however is of the 'injury mark no 10', an injection mark on Pushkar's wrist, which could not be accounted for, according to the report.
Earlier, following Sunanda Pushkar's death, Tharoor had accused his 'opponents' of 'unleashing a vicious campaign' against him, in an exclusive interview to DNA.
In one such incidence of a 'vicious campaign', CPI-M leader VS Achutanandan had said that Congress leaders should answer why no complaint has been registered against union minister Shashi Tharoor in connection with his wife Sunanda Pushkar's mysterious death.
Almost as if to prove Tharoor's words right again, controversial BJP leader and noted lawyer Subramanian Swamy on Wednesday said that he will file a petition seeking a investigative probe by the Apex Court into the mysterious death of former Union Minister and Congress leader Shashi Tharoor's wife Sunanda Pushkar in January.
Read: Subramanian Swamy calls for proper investigation in Sunanda Pushkar's death
Furthermore, Tharoor had added a while later that he was unhappy with the pace of the probe into Pushkar's death. In a statement that could seem controversial now, Tharoor had said that it seems increasingly that Sundanda (52) died due to "health related" issues and it is also "increasingly clear" that there was no basis to take the case much further. Given Sudhir Gupta sensational charge of Tharoor's ministerial colleague influencing the autopsy report, this statement from Tharoor is interesting.
Adding a new twist into the matter, Health Minister Harsh Vardhan sought report from AIIMS on these allegations that post-mortem report of Shashi Tharoor's wife Sunanda Pushkar were doctored.
The government today sought a detailed report from the AIIMS on the reported allegation by a senior forensic doctor that he was pressurised to manipulate the report of the autopsy of Sunanda Pushkar, wife of former Union Minister Shashi Tharoor. "After I became the Health Minister, Dr Sudhir Gupta of AIIMS had written to our department regarding his promotion.
But after TV channels yesterday said that he has made a specific allegation, I have written to the AIIMS Director seeking a detailed information in this regard," Union Health Minister Harsh Vardhan said. While in the opposition, the BJP had demanded a CBI enquiry into Sunanda Pushkar's death, after the government laboratory ruled out drug overdose playing a part in her death. Sunanda was found dead in a 5-star hotel in South Delhi on the night of January 17, a day after her twitter spat with Pakistani journalist Mehr Tarar over an alleged affair with Tharoor.
Gupta refused to comment on his reported allegation, saying he has already stated the facts before the "competent" authorities.
"I don't want to comment on this issue. It is a legal matter, a serious issue, I cannot share with the media. I am a government servant. Whatever I wanted to say, I have said at a competent place," he said.
Gupta, who was heading the panel that conducted Sunanda's postmorterm, has reportedly alleged he was pressurised to show that her death was natural which he resisted.
The probe into the case was handed over to the Crime Branch on January 23. However, the case was transferred back to the South District police two days later on January 25.
Inquest proceedings under Section 174 CrPC were initiated in the Sunanda case according to which a sub-divisional magistrate inquires into the death of a woman if she dies within seven years of her marriage.
In a report to the police, the SDM, who had recorded the statements of Sunanda's brother, son, Tharoor and his staff, had said that no family member suspected any foul play in the death.
Below are some updates:
Sunanda Pushkar autopsy report case : Shashi Tharoor evades questions pic.twitter.com/ep8woc9usr

— ANI (@ANI_news) July 2, 2014
Dr. Sudhir Gupta(AIIMS) had given us a presentation for his promotion some time back-Dr.Harshvardhan,Health Minister pic.twitter.com/XLZ8YURyqY

— ANI (@ANI_news) July 2, 2014
I have written to AIIMS director for more info on this issue-Dr.Harshvardhan on AIIMS doctor's affidavit in CAT on Sunanda Pushkar case

— ANI (@ANI_news) July 2, 2014
"Sunanda Pushkar had said that she would expose IPL deals, Sonia Gandhi's son-in-law Robert Vadra's name would also have surfaced. Sunanda Pushkar was killed and there should be an inquiry into it by Supreme Court," Subramanian Swamy was quoted as saying by leading news channels. "I am going to file a petition in Sunanda Pushkar death probe by the end of July," the BJP leader further added.
Meanwhile, Congress ally Nationalist Congress Party (NCP) has also called for a thorough probe into Sunanda Pushkar's death. "There should be an inquiry into the death of Sunanda Pushkar and Shashi Tharoor should co-operate," lawyer and NCP leader Majid Memon said. These reactions from both the leaders came hours after the head of the forensics department at All India Institute of Medical Sciences (AIIMS) created controversy by claiming that he was pressured into giving a false report in the Sunanda Tharoor death case.
BACK STORY
Sunanda was found dead in suite 345 of south Delhi's Leela hotel on January 17 this year. Her body was reportedly found by Tharoor around 8pm, when he returned to the hotel after attending a meeting of the All India Congress Committee.
Sunanda was found dead in a five-star hotel in Delhi a day after she was engaged in a verbal spat with a Pakistani journalist Mehr Tarar on a social networking site, suspecting her of having an affair with her husband. However, Tarar had denied the allegations. Here are the tweets sent out by the two women on January 16, just a day before Sunanda Pushkar's death. The tweets were in response to some cryptic tweets from Shashi Tharoor's account indicating that Meher Tarar had an affair with Tharoor. Tharoor later claimed that his account had been 'hacked':
@MehrTarar the audacity of a woman desperaely in love with an Indian "please shashi dont make me go i pleaded and begged i love u Shashi "

— SunandaPTharoor (@sptvrock) January 16, 2014
I have nothing to say to a woman clearly out of her mind. To be called an ISI agent, a stalker..I have nothing to add. Just shows who she is

— Mehr Tarar (@MehrTarar) January 16, 2014
@MehrTarar leave us Indians alone and stop talking to my huband and pleading with him its digrading respect youself as a women

— SunandaPTharoor (@sptvrock) January 16, 2014
its funny on a election yr ppl want to bring down an MPusing a Paki journo who has lost her job and tries with everyone including with Omar

— SunandaPTharoor (@sptvrock) January 16, 2014
Or perhaps to build up twitter followers thats a cheap thing 2 do ask the Pakistanis what they think of her & yes 20 calls a day is stalking

— SunandaPTharoor (@sptvrock) January 16, 2014
for her information Shashi an& I are very happy together sad for her to know i guess i get sick and go away 4 treatment &the vultures pounce

— SunandaPTharoor (@sptvrock) January 16, 2014
Have just been approached by an Indian ch 2 respond. Said what I had to. They want it on camera;not doing it.DIRT doesn't deserve a response

— Mehr Tarar (@MehrTarar) January 16, 2014
For a woman to trash another woman linking her w/her husband is the lowest form of sickness ever. It's nauseous. No respect for her marriage

— Mehr Tarar (@MehrTarar) January 16, 2014
Then, the following morning, when Sunanda Pushkar was found dead, Tarar tweeted the following:
I just woke up and read this. I'm absolutely shocked. This is too awful for words. So tragic I don't know what to say. Rest in peace,Sunanda

— Mehr Tarar (@MehrTarar) January 17, 2014
What the hell. Sunanda. Oh my God.

— Mehr Tarar (@MehrTarar) January 17, 2014
Given that Pushkar died just a day later, the exchanges between the two women seem to be a matter of interest.
Also, the hotel staff who found Sunanda Pushkar dead, quit her job immediately for 'personal reasons'.
Pushkar's family had, after a few months, asked for an end to speculation over her death. In a joint statement issued by her father, brothers and son, said they were "deeply disturbed by the continuing speculation in the media about the tragic loss of Sundanda on January 17 this year.