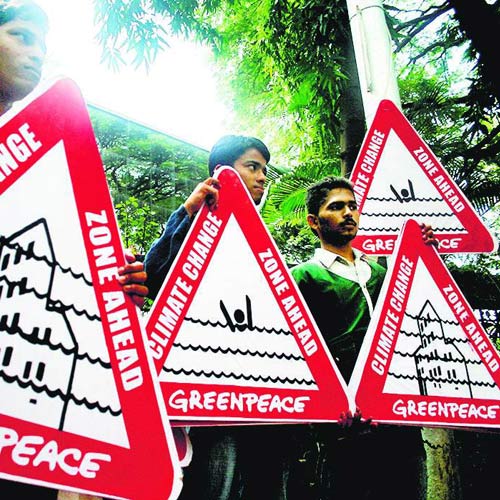 The most recent report by Intelligence Bureau (IB) on NGOs has stirred much unwanted controversy for the new government. While, multinational Ngos such as Greenpeace have condemned the report that goes so far as to call them a "threat to national economic security", they haven't been singled out.
The very comprehensive report details how foreign donors organisations, under guise of protecting human rights, attempt to influence development projects, that are later used as tools for strategic foreign policy by western governments. First reported by The Indian Express, the IB claims the negative impact of the NGOs' role on GDP growth to be "2-3 per cent per annum".
The report, drawn up and submitted to Prime Minister Narendra Modi in his second week in office, identifies six key development areas and projects that are "under threat" from foreign funded NGOs.
1. Anti nuclear activism
This is perhaps one of major highlights on the report and of extreme concern to the IB that sees the Ngo's rally against the major nuclear projects as an attempt to take down India's nuclear programme. It gives a case study of activism against Kundankulum Nuclear Power Plant.
The report lists what they believe to be nexus of sorts against India's nuclear development, identifying 5 territorial networks in Tamil Nadu, Kerela, Andhra Pradesh, Gujarat, and Meghalaya. They also suggest that these networks are further supported by superior organisations.
Culprits: National Alliance of Anti-Nuclear Movements , People's Movement Against Nuclear Energy
Here are what these Ngos stand accused of:
- Conducting radiation leak studies
- Stalling of nuclear plant
- Instigation of various protests
Interestingly, the IB's concerns aren't limited to just the foreign funded organisations, but also foreign educated activist. SP Udaykumar for instance is referred to as the US educated anti-nuclear activist. Udayakumar, who now fears for his life, has denied the allegations made in the report, "I did several research and writing projects on globalisation, racism, minority welfare, BRICS etc. I never did any research and writing project on India's development or India's nuclear programme."
2. Anti coal activism
Here's where Greenpeace gets targeted the most for its efforts to 'take down' India's coal fired power plants and coal mining activities.
The environmental organisations also stands accused of creating foreign funded protest movements under a 'coal network'.
"It is assessed to be posing a potential threat to national economic security… growing exponentially in terms of reach, impact, volunteers and media influence," it notes. The efforts are focused on "ways to create obstacles in India's energy plans" and to "pressure India to use only renewable energy".
Culprits: Primarily Greenpeace
Here's their crime:
- Organising protests in areas of Saasan and Singrauli
- Financed a study by Tata Institute of Social Science on health and pollution issues in Mahaan coal block
- In April 2013, Greenpeace supported and screened a documentary film by Paranjoy Guha Thakurata called 'Coal Curse'.
- Funded another IIT Delhi study that stated how water diversion to CFPP reduced irrigation potential in Wardha by 40%.
- Published a "questionable" report
- Attended international coal conferences that encourage "people centric" protests
- In talk with Aam Aadmi Party in Mahaan
3. Anti Genetically Modified Organism activism
Once again, Greenpeace is seen as the culprit, leading anti GMF activism. A good part of this section also focuses on the benefits of BT Cotton, making it an obvious deduction how the activities of green ngos are hurting Indian trade interests
Culprit: Greenpeace, once agian
Their crime:
- Sharing office space with four other prominent anti-nuclear Ngo
- Facilitating News articles and social media campaign
4. Anti POSCO activism
The report accuses the Association for India's Development for not really caring about India's development, by drafting (despite the government's adverse notice)drafted a plan for Posco Pratirodh Sangharsh Samiti (PPSS). Indian Social Action Forum (INSAF) is also accused of anti-Posco activities.
Culprits: PPSS and INSAF
Here's what they did:
- Paid and organised anti-Posco events
- Shared office space with other Ngo
- Complained to NHRC about the death of anti-Posco activists
5. Anti Vedanta Aluminium
The report highlights how the protests led by Amnesty affected Vedanta's mining aspirations in India. The weight of the blame is also shared by Ngos such as Action Aid UK and Survival International. This despite several studies already pointed how allowing the seven sq km mine on Niyamgiri hills would result in 1.2 lakh trees being cut, while the mine itself would have a life of just four years.
But nevertheless, Vedanta's history is muddled by opposition from then ruling party Vice President Rahul Gandhi. The project was rejected in 2010 by the then environment minister Jairam Ramesh on grounds of serious environmental violations. Later Rahul Gandhi had visited the area to meet tribals protesting against the project and had voiced his full support in their fight. OMC had approached the Supreme Court against MoEF's order, but in 2013 the apex court directed that views of local people who were getting affected should be taken into consideration.
Culprits: Amnesty International, Action Aid and Survival International
Their crime:
- Screening documentary film that was followed by a discussion
- Took tribals to the UK for a visit with their directors
- Visited them in their villages
6. Activism against extractive industries in the Northeast
CORDAID intervention in Northeast India also made it to the IB's bad Ngo list. Their protests and opposition to the mining and drilling activities in the Northeast was not received well by the IB. The fact that they opposed the AFSPA, was also seen as an outright attack on India's development
Culprit: CORDAID
Crimes they committed:
- Invited Northeastern NGO participants to Bangkok conference, after their attempts to meet Indian activists in Manipur was stalled with visa denial
- Training session in Shillong to teach activists how to use GPS to track mining in Northeast
- Openly declared opposition to drilling in Manipur, mining in Meghalaya, and dams in Arunachal Pradesh
- Of the opinion that AFSPA should be revoked