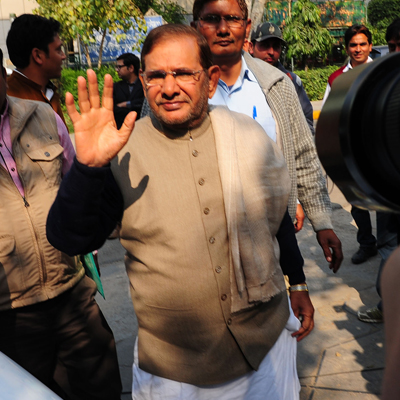 President Sharad Yadav was on Thursday elected unopposed to the Rajya Sabha from Bihar, but in two other seats, the party's official candidates were facing stiff challenge from Independents backed by rebels and the Bharatiya Janata Party (BJP).
After end of withdrawal deadline at 3:00 PM, Assembly Secretary Hareram Mukhiya declared Sharad Yadav elected unopposed to the seat vacated by Lok Janshakti Party (LJP) President Ramvilas Paswan after victory in the Lok Sabha poll.
There were four candidates for the two other seats, Mukhiya, who is returning officer for the three RS seats in Bihar, told reporters here.
For the two seats Janata Dal United (JD(U)) official candidates diplomat-politician Pawan Varma and Gulam Rasool Balyawi were being challenged by Independents-- real estate baron Anil Sharma and expelled JD(U) leader Sabir Ali respectively who were backed by rebel legislators of Nitish Kumar's party and the opposition BJP.
The two seats for which voting would take place on June 19 were vacated by BJP's Rajiv Pratap Rudy and Rashtriya Janata Dal's (RJD) Ramkripal Yadav.
While Rudy won the Lok Sabha election from Saran constituency defeating Rabri Devi, the wife of RJD chief Lalu Prasad, Ramkripal Yadav won the Patliputra seat on BJP ticket.
Earlier, in the day, BJP legislator Dilip Jaiswal who had filed nomination as Independent for the RS seat vacated by Rudy withdrew his nomination. With him leaving the field, there would be direct contest between Pawan Varma and Anil Sharma for the seat.
Sharad Yadav, who is camping here in view of infighting in the party, did not collect the certificate from the Returning Officer.
Parliamentary Affairs minister Shrawan Kumar received Yadav's certificate on his behalf.