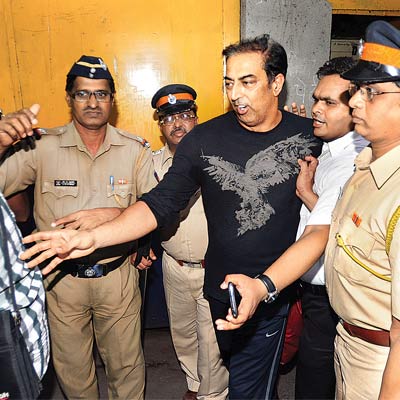 Bollywood actor Vindoo Dara Singh, who was named in the Indian Premier League (IPL) match-fixing scandal of 2013, has alleged that some high and mighty in Indian sports, politics and even senior police officers are involved in betting and match-fixing, a Zee expose has revealed.
In a Zee News sting operation, Vindoo has revealed that the lid was blown off the IPL match-fixing scandal primarily as a result of the tug of war between former IPL commissioner Lalit Modi and former BCCI president N Srinivasan; NCP chief Sharad Pawar was backing Modi.
Naming several bigwigs, Vindoo claimed that he was just a small fry in the melee though admitting that he was involved in betting. He alleged that Srinivasan's son-in-law Gurunath Meiyappan was also involved in the sordid saga.
The fallen actor added that film stars placed bets but were not involved in match-fixing. He defended Kerala cricketer S Sreesanth and said that he was not embroiled in fixing. The expose was aired on Zee News at 7pm on Monday.
Zee News editor Sudhir Chaudhary said investigating agencies left a lot of loopholes while probing the match-fixing scandal, prompting the team to take up the sting operation so cricket lovers could see the reality themselves and put pressure on agencies not to defend lobbies involved in cricket.
Excerpts from the expose:
Vindoo : This entire case is actually a tussle between Modi and Srinivasan. We have nothing to do with it. We did nothing....but were still dragged into it.
Vindoo alleged that since his ouster from IPL, Lalit Modi was looking to even the score with Srinivasan. And the match-fixing episode involved some biggies.
Vindoo : Lalit Modi just needed a chance to get Srinivasan out.
Vindoo claimed that for a minor offence (like betting, which attracts a small fine) he was kept behind bars — just because he was the medium to catch bigger fish like Srinivasan.
Reporter: Did they trouble you a lot during interrogation?
Vindoo : Not much. They (cops) said, "We know you haven't done anything, but there's pressure from Sharad Pawar sahab and until Srinivasan isn't nabbed you will have to stay. You will have to stay here for 10-15 days or a month."
Vindoo : (Sharad) Pawar sahab did all this. We're nothing in his comparison...we're ants. We just have to stay quiet.
Reporter: I'm still confused...Lalit Modi had to trap Srinivasan...but why through you?
Vindoo : Gurunath is Srinivasan's son-in-law. If anything is proved against Guru then....
Vindoo then asserts that the entire IPL is a fixed affair.
Reporter: As a common man, I want to know—is this all fixed?
Vindoo : It is 100 per cent fixed.
Vindoo claimed to know of actors from the film industry who placed bets, but none fixed matches according to him.
Vindoo : The entire Bollywood places bets, but they are not involved in match-fixing.
Vindoo says that the money that players can earn from fixing is too big an allure for them.
Surprisingly, Vindoo said that banned cricketer S Sreesanth could not have been involved in fixing matches. And he gives reasons to back his assertions.
Reporter: But the negative coverage about Sreesanth was pretty bad.
Vindoo : Supposing I am Sreesanth—if I have to give away 14 runs in an over—I will give away two boundaries in the first two deliveries, only then can 14 runs be scored. But he gave only six runs off his first four deliveries—is there a guarantee that two boundaries will be scored off the last two balls? All these allegations against Sreesanth are rubbish, fraud; I will say he is 100 per cent not guilty.
The Indian Premier League in its entirety is Lalit Modi's brainchild, said Vindoo . Modi had gotten the nod for IPL from the then BCCI president Sharad Pawar.
Vindoo : Lalit Modi went to 'SP' with the idea. Modi said he had planned a tournament that was 'rocking', people would go crazy and praise him. Pawar was impressed and agreed to the plan. Pawar assured Modi that no one would 'disturb' him.
Vindoo claimed that Modi got in trouble after he rubbed Congress leader Shashi Tharoor the wrong way. The rivalry between Tharoor and Lalit Modi turned into a full-blown war between NCP and Congress with Sharad Pawar throwing his weight behind Modi.
Vindoo : (In 2009) Government asked Modi to cancel the IPL that year due to elections. But Modi had become so powerful that he overrode it all and said he would hold the IPL — outside India. They warned Modi that there would be problems, but he took the IPL to South Africa and siphoned off thousands of crores of rupees. When the hotel bills came up to one lakh dollars, he blew it to two lakh and pocketed the difference. South Africa earned the money that India could have made. Vindoo alleged that Shashi Tharoor had invested money in IPL and made Tharoor resign. Modi knew everything, he himself has partnerships in four teams. Modi blackmails. After he was exposed, Congress went after Modi. And Sharad Pawar backed Modi to the hilt. But the 'real' Congress sidelined the NCP.
Vindoo also claimed that liquor baron Vijay Mallya too, claiming that he, of all the IPL team owners, is the only one aware and actively involved in betting.
Reporter: Do the team owners know all this?
Vindoo : Barring Vijay Mallya nobody knows anything. Mallya is himself involved in betting, he earns 100-200 crore in IPL.
No one can take on Sharad Pawar and survive, said Vindoo , alleging that the NCP chief could even shut down media houses if he wanted.
Vindoo : Sharad Pawar is a 'great' man. These people are challenging him and we are getting dragged into it. Can anyone take the gauntlet against him in Maharashtra and survive? Today you (media) are taking the fight to him — he can shut your channel.