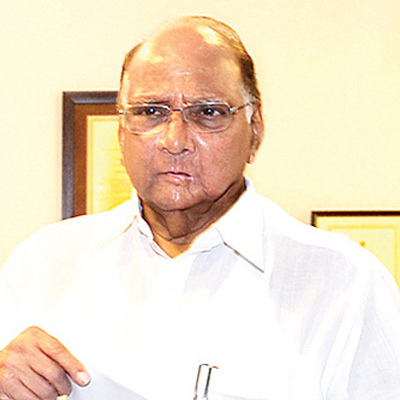 A public interest litigation has been filed in the Bombay High Court seeking for elections to be held in Satara on the same day as polls in Mumbai and Thane districts pursuant to the "ink" and "double vote" remark made by Union minister Sharad Pawar.
A criminal case has also been filed against Pawar in a Magistrate's court here for making such a remark.
Pawar had recently told his supporters to vote twice after removing the indelible ink in the multi-phase Lok Sabha election in Maharashtra.
The NCP chief had, while addressing partymen in Navi Mumbai on March 23, asked them to take advantage of the multi-phase polling in the state by voting twice, first in their hometowns and then at places of work.
Social activist Pravin Wategaonkar today filed a PIL in the High Court against the NCP chief's remark and sought for elections to be held in Satara on the same day as elections in Mumbai, Thane and Navi Mumbai.
Elections in Satara are scheduled on April 17 and in Mumbai, Thane and Navi Mumbai on April 24.
Wategaonkar mentioned the petition before a division bench of Justices A S Oka and Amjad Sayed which has posted it for hearing tomorrow.
"Last time (in 2009), the polling in Satara and Mumbai was on the same day and people went to their hometowns. But this time, polling in Satara is on April 17 and here on April 24," Pawar had said, addressing a gathering of "mathadi" workers (head loaders) who hail from that district in western Maharashtra.
Pawar, who had received flak for the comment, had later said the remark was made in "a lighter vein and had a tinge of satire to it".
Meanwhile, a social worker has filed a criminal case against Pawar in a Magistrate's court at Mazgaon for making such a statement.
The complaint, expected to come up for hearing on April 15, alleged that Pawar had committed offences under IPC and other Acts by asking people to vote twice which is not allowed under the Constitution and the laws of the country.
Pawar has allegedly attempted to corrupt the minds of the people and destroy the integrity and fairness of the election process by making such statements and encouraging people to perform illegal acts, the complaint said.
"Such behaviour is a violation of the Code of Conduct framed for political parties and candidates during 2014 general elections and will remove the faith and trust that the people of democratic India have in the elections held each term," the complaint said.
The complaint prayed that the Election Commission of India and State Election Commission be directed to investigate the matter under section 156(3) of CrPc and lodge an FIR under section 204 of CrPc against Pawar for various offences.
It said the NCP chief should be booked for IPC offences such as section 171D (personation at elections) r/w 171F (punishment for undue influence or personation at elections), section 116 (abetment of offence), section 153-B (punishment for imputations and assertions prejudicial to national integration) and 505 (b) (statement made with intent to cause or likely to cause, fear or alarm to the public).
The complaint further urged that Pawar may also be booked under section 8 and 11A of the Representation of the People's Act.