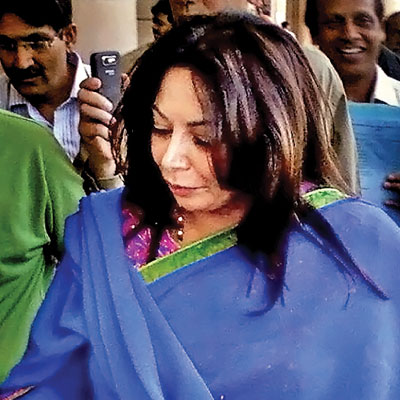 The Serious Fraud Investigating Office (SFIO) on Wednesday informed Supreme Court that it would prosecute various Vaishnavi group companies owned by controversial former corporate lobbyist Niira Radia for alleged violation of the Companies Act.
In an affidavit filed before the court, SFIO said that Ministry Of Corporate Affairs (MCA) has granted sanction and filing of prosecution against the companies, that once catered to high-profile clients like Tatas, Unitech and Reliance Industries, is under process. The agency also stated that on the direction of MCA it has also sent its reports to CBI and Income Tax department for taking action on their part.
The ministry has also instructed that standard accounting practice of Tata Realty and Infrastructure in respect of its deal with Unitech Limited should be examined. It has also instructed to investigate deal regarding purchase of News X channel and Eenadu.
SFIO that has the mandate to probe white-collar crimes and frauds stated that the companies have not disclosed long term investment and foreign exchange earnings in notes to account, required as per the law. Vaishnavi group was a major player in corporate communications and public affairs business.
This group of companies came under dock and subsequently stopped operations in 2011, when certain tapped conversations of its owner, Radia with businessmen, ministers, political leaders, journalists and others, were leaked in media. She has been questioned several times by investigative agencies, including CBI and Enforcement Directorate, over such conversations.
SFIO submitted in the apex court that some processes take their own time in order that they are not painted as being hasty or motivated and can withstand the legal tests.
"...attempts of the applicant to surreptitiously obtain confidential documents of processes in their nascent stages to allege and purposely show inaction does not augur well with the clearly laid down principles of a PIL," the affadavit stated.
"The filing of prosecution by SFIO as directed by MCA is under progress. Sanctions have been accorded by the MCA against various Vaishnavi group companies for filing prosecution under the Companies Act," the affidavit read, while detailing about Vaishnavi Corporate Communication Private Limited and eight other companies of same group. The agency has completed the probe against all the companies and the final investigation report was submitted to MCA on January 22.
The apex court was also informed that the SFIO was in the process of lodging a former complaint with ICAI (Institute of Chartered Accountants of India) and ICSI (Institute of Company Secretaries of India) for initiating disciplinary action against the concerned auditors and company secretaries respectively, as per MCA's direction.
According to the affidavit, the MCA in a letter on February 5 issued instructions to SFIO for filing prosecution under various charges under the Companies Act made out in the investigation report. MCA has also directed the SFIO to forward a copy of the report to the IT Department and the CBI for necessary action at their end.
SFIO has further been advised to forward the relevant extract of the report to the Registrar of Stamps, Department of Revenue, Government of Haryana for examination of stamp duty violation.
Apart from Vaishnavi Corporate Communications, other companies which have come under SFIO scanner are — Vaishnavi Advisory Services, Leisure Club India, Claro Consultancy, Magic Airlines, Crownmart International India, Maansi Agro, Vitcom Consulting and Neucom Consulting.
In 2012, then Corporate Affairs Minister Veerappa Moily ordered an SFIO probe into nine Vaishnavi group entities after certain irregularities came to light during a scrutiny by the Registrar of Companies.