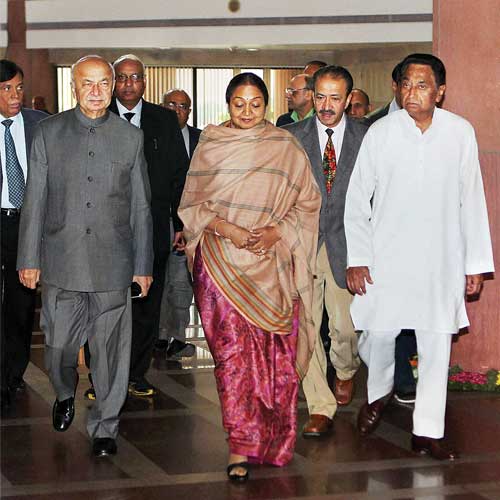 Both the Houses of Parliament are set to be adjourned without transacting any business on Thursday, the first day of the curtailed winter session. The two houses will adopt condolence resolutions as two MPs passed away recently. Murari Lal Singh (61), BJP MP from Surguja in Chhattisgarh, died on Wednesday and Samajwadi Party general secretary Mohan Singh (68), a Rajya Sabha member from Uttar Pradesh, had died on September 22.
The session has just 12 working days of sittings, too short for the last full-fledged meeting of Parliament ahead of the general elections.
The resurgent BJP is planning to rake up the issue of the communal violence bill which the government wants to push in this session, though it is nowhere on the agenda as yet. The real business, therefore, may shrink to just 10 sittings from Monday after results of the five state assemblies are out.
The communal violence bill was brought up by the UPA government back in December 2005 in the Rajya Sabha. It has got stuck after a parliamentary standing committee of home ministry shot down many of its provisions in its report in December 2006.
The government is now trying to bring the Prevention of Communal and Targeted Violence Bill in its new avatar as drafted by the Sonia Gandhi-headed National Advisory Council (NAC) in 2011 as a substitute to the original the Communal Violence (Prevention, Control and Rehabilitation of Victims) Bill, 2005. Sonia wants it passed to woo the Muslim voters in the elections, assuming its significance in the wake of the bloody communal violence in Muzaffarnagar district of UP leaving at least 50 dead and thousands displaced and living as refugees in own country.
BJP spokesperson Nirmala Sitharaman said the bill was aimed "to polarise the country on communal lines". The Leader of the opposition in the Rajya Sabha Arun Jaitley also reiterated his stand that such a law would encroach on the domain of the states as "law and order" and "public order" fall in their domain in the Constitution. He said the Bill discriminates against the majority as it is loaded against it on the basis of religion.