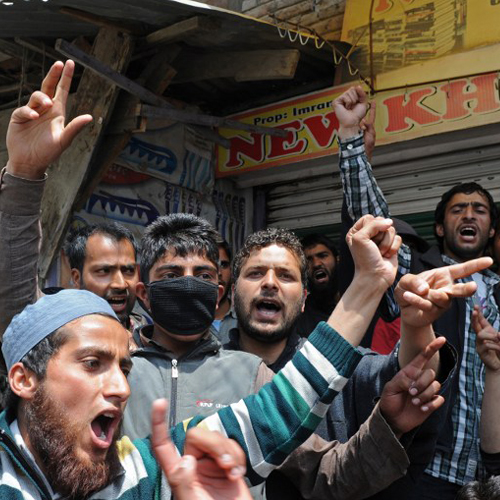 Separatists boycott call and terror threats have cast its dark shadows on the polling of Srinagar parliamentary constituency which witnessed only 26% turnout on Wednesday.
Of the three districts, summer capital city of Srinagar, which has eight assembly segments, witnessed the lowest polling of 11.46%. Ganderbal and Budgam districts recorded 45.61% and 39.50% respectively.
In the 2009 parliamentary polls, the Srinagar constituency witnessed 25.55% polling, which was slightly higher than earlier elections when militancy was at its peak. There was a turnout of only 11.93% in 1999 which shot up to 18.57% in 2004.
Enter 2014; the situation has taken a turn for worse. The resurgence of separatists and renewed terror threats coupled with dismal governance of Omar Abdullah has had an adverse impact on the polling.
"Only two families have got independence after 1947: One is Nehru-Gandhi and another is Abdullahs. We are fighting for azadi and elections are no solution for Kashmir issue," thundered Ghulam Mohammad, a 75 year old man in old city.
Separatist sentiment is running deep in the urban pockets of Srinagar city and some towns in north and south Kashmir. It was evident by the fact that eight Srinagar constituencies witnessed 11.46% polling with Habba Kadal recording the lowest at 4.3%.
"I have never voted in my life. I feel voting is a treachery with the blood of martyrs. We have lost over 80,000 people and elections cannot be substitute to right to self determination", said Mohammad Yousuf at Safa Kadal.
This year the separatists ran a coordinated poll boycott campaign in Srinagar. Pamphlets were distributed to the people calling for poll boycott. Social networking sites were extensively used for the polling boycott campaign. Though the authorities lately arrested more than 600 stone throwers, the damage had already been done.
Coupled with two attacks near the rallies and the threat posters of Hizbul Mujahdeen warning the people against voting has had an impact on the turnout. Around 14 people were injured when two explosions rocked near the venue of National Conference president Farooq Abdullah's rallies at Srinagar and Magam that send shivers down the electorate in Srinagar.
Even 35,000 forces deployed in Srinagar parliamentary constituency were not able to instill confidence among the people to vote in Srinagar. The low turnout gave separatists a reason to cheer..
"By rejecting the election drama, people of Central Kashmir have paid their best homage to the martyrs and tremendous sacrifices of the nation. The courage, braveness and boldness shown by the people have
made our resolve firmer in the fight against the powerful oppressor," said Hurriyat hawk Syed Ali Shah Geelani.