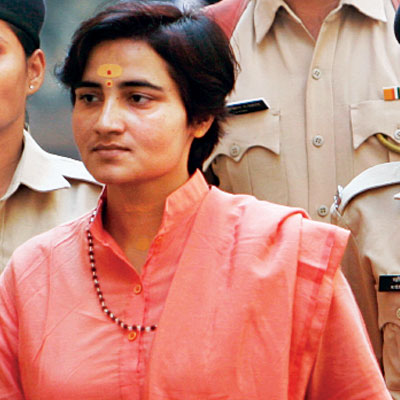 In a sensational twist to the murder mystery of RSS pracharak Sunil Joshi, NIA now believes that his advances to Sadhvi Pragya Singh may have played a role in his death. According to Indian Express, the investigative agency is set to file a chargesheet in the murder of Sunil Joshi next week and Sadhvi Pragya's name is likely to feature in it.
Sadhvi Pragya is also the prime accused in the Malegaon blast case, which resulted in the death of 37 people. Initially, theories floated in the media that Sunil Joshi was killed to prevent him from exposing the truth about terror plots. But now it seems there was more than it than meets the eye. A report suggests Sadhvi Pragya was also wary of 'sexual advances' made by Joshi and was concerned about him spilling the beans about their plans. Pragya has already been named as an accused in this case by the Dewas (Madhya Pradesh) Police. She and four others will be charged by NIA under the provisions of the Arms Act. She is the only person to be named by both the agencies.
Media sources claim that the Sadhvi had confessed to the Dewas Police in 2011 that Joshi was killed because he misbehaved with her and his overall behaviour was something not expected by a woman. She had claimed that Joshi was misusing the money that came to him from the party and other sources. Pragya also told the police that Joshi was murdered as she feared that if the police arrested him, then conspiracies of other bomb blasts in the country would be revealed.
The four persons who are likely to be charged by NIA include Rajendra Chowdhary, Lokesh Sharma, Jitendra Sharma (a leader of Bharatiya Janata Yuva Morcha) and Balbir Singh. A sixth accused, Dilip Jagtap, has turned approver. According to the NIA, Rajendra and Lokesh killed Joshi on the night of December 29, 2007 in Dewas. The pistols and magazines were procured and hidden by Jitendra Sharma and Balbir Singh, according to the report which will be filed next week.
All in all, with NIA presenting the chargesheet shortly, focus will be again back on Sadhvi Pragya and the so-called 'Hindu terror'.