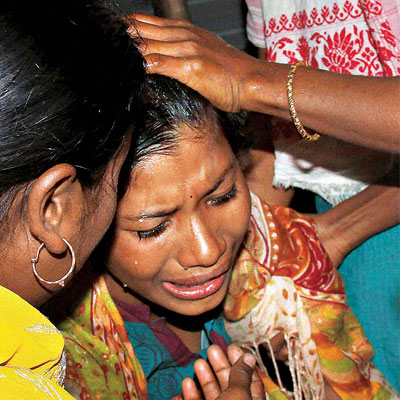 A 45-year-old man died of burn injuries after he immolated himself in front of the Assam secretariat in Guwahati on Monday morning. Pranab Bodo was protesting the denial of land rights to people residing on government land in the state capital.
Bodo's immolation, a first among Assam's farmers, sparked protests and road and rail blockades in various parts of Assam. RTI activist Akhil Gogoi-led Krishak Mukti Sangram Samiti (KMSS) had warned of self-immolation demanding land rights for 85,000 families living on government land in and around Guwahati.T he state cabinet had recently approved land settlement to families residing on government land and made January 28, 2001 as the cut off date. Subsequently, a screening committee selected 500 families and the process to allot them land began on Monday. However, the government refused to give land rights to those living on forest and wetlands.
"He told me this morning before coming out for the protests that he will immolate himself. I forbade him but he didn't listen to me," Bodo's wife told journalists.
Bodo, who succumbed to his injuries at the Gauhati Medical College and Hospital where he was rushed to, is survived by his wife, a son and two daughters.
The Congress government in the state said it will take the 'responsibility' of Bodo's family. But the opposition parties held it responsible for Bodo's death.
The immolation comes on the eve of Congress vice president Rahul Gandhi's rally in Guwahati. KMSS had earlier warned of self-immolation at Rahul's rally venue to press for their demands. "We demand the government give land rights to all indigenous people who are landless and residing on government land," KMSS secretary Kamal Medhi told dna. "If need be, the government can rehabilitate them elsewhere."