Wants Centre to decide on sanction for prosecuting soldiers within three months.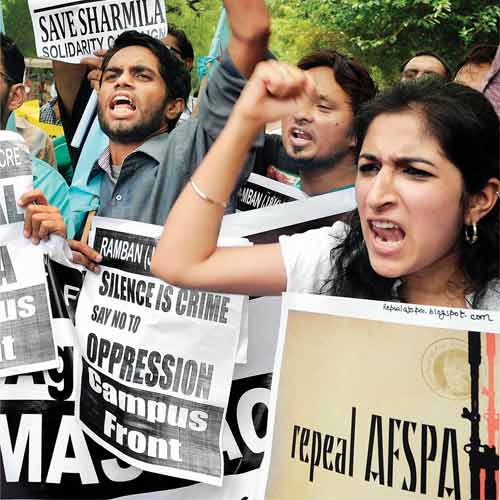 A judicial commission set up by the Supreme Court is trying to make the controversial Armed Forces Special Powers Act (AFSPA) more humane, and the security forces more accountable. The committee has suggested fixing a time frame of three months for the central government to decide whether to prosecute security personnel engaged in extra-judicial killings or unruly behaviour in insurgency-hit regions.
Under AFSPA, security personnel cannot be tried in a court of law without the central government's permission. In its report submitted to the apex court, the three-member committee headed by Justice (retired) N Santosh Hegde recommended that if the central government failed to respond to the state government's request for action within three months, it would be presumed as a grant of sanction.
The Commission was set up in January this year to inquire into six extra-judicial killings in Manipur, but the panel went on to study the act in detail. It then suggested measures to make the law humane and increase the accountability of the security administration.
In a separate note annexed to the 114-page report, commission member Dr Ajai Singh - a retired Karnataka cop - said that extra-judicial killings lead to hatred against the security forces. He noted that AFSPA was an impediment to achieving peace in regions such as Jammu and Kashmir and the northeast.
"Perhaps the AFSPA is preventing the government and administration from thinking innovatively to solve the problems. It is said that for a man with a hammer, every problem is a nail to be hit on the head with the hammer," said the former top cop, who led the investigations into the terrorist attack on the Indian Institute of Science, Bangalore as well as the terrorist attack in Hubli. "Why has the same law not been used in other parts of the country which have been reeling under the Naxal violence?" he asked.
The commission also said the law needs to be reviewed every six months to see whether its implementation is actually necessary in states where it is being enforced. About Section 6 of the act, which guarantees protection against prosecution to the armed forces, the report said: "It is not that no action can be taken at all. Action can be taken but with prior sanction of the central government."
The three-member team, which also included former chief election commissioner JM Lyngdoh, added: "Despite repeated questions posed by the commission, we have not been informed of any monitoring system to review the use/abuse/misuse of these powers by the security forces as claimed by the central government in their affidavit before the Supreme Court."