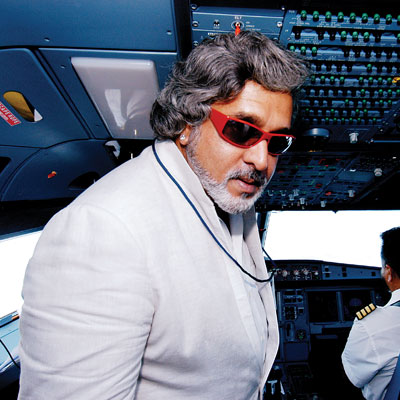 The CBI has returned empty-handed from the State Bank of India, the country's largest lender, in a case involving a loan to Kingfisher Airlines.
The CBI's Bank Securities and Fraud wing, which is looking into a number of cases of bad debts amounting to Rs2 lakh crore, had put in a request with the SBI to allow it to examine documents related to a Rs6,000-crore loan to the airlines. That loan is now marked as 'bad debt'.
SBI was the lead banker in a consortium of 17 banks that granted Kingfisher Airlines the Rs6,000-crore loan, with Rs1,500 crore of it from the SBI kitty.
According to sources, SBI has claimed that the recovery process was on, and that the company could not repay the loan as its business had gone bust.
"The CBI recently asked the SBI to share documents related to the loan. The bank, however, said there is no fraud involved in the non-payment of loan and that it was simply a case of business failure," a source told dna.
With that kind of response from the bank, the country's premier investigating agency, which is looking into many other similar cases of default on loans, was forced to return empty-handed.
SBI did not respond to a mail sent by dna seeking information on steps taken to date to recover the loan from Kingfisher. Officials, however, claim the bank has recovered nearly Rs400 crore of the Rs1,500 crore loan to the company.
Banking sector experts told dna that the steps taken by SBI were "cosmetic" and were an eyewash.
A banking industry expert told dna: "The sum raised from the Kingfisher is only on its books. SBI says it has taken over brand Kingfisher, worth Rs200 crore or whatsoever. But it is an amount, which is only on its books and does not have any tangible value."
Also, SBI did not take any concrete steps to recover the loan after it classified the Kingfisher account as a 'bad debt' in January 2012. Sources said that for a long time, SBI has not convened a meeting of the consortium to discuss the issue.
If industry sources are to be believed, steps haven't been taken to take possession of Kingfisher House in Mumbai and Mallya's villa in Goa, forcing lenders to knock on the doors of the Debt Recovery Tribunal in Bangalore.
According to the All India Bank Employees Association (AIBEA), top corporate entities, such as Lanco Infratech and Deccan Chronicle, figure in the list of 400 companies that were given bank loans amounting to Rs70,000 crore, but which have not bothered to pay back the loans. These bank loans now figure in the list of non-performing assets of banks. In all, the NPA account in the banking system runs into a mind-boggling Rs2 lakh crore.