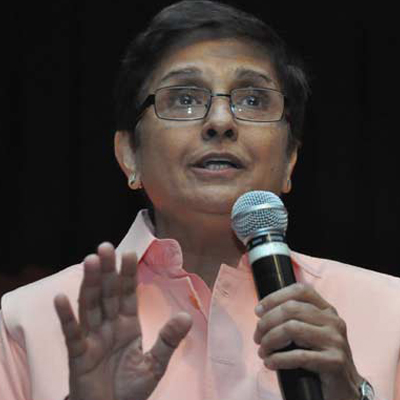 Commenting on Prime Minster Manmohan Singh's former media adviser Sanjay Baru's memoir, former IPS officer Kiran Bedi on Saturday said Baru's book substantiates that Manmohan Singh never had any power.
"We used to listen and read about this, but this book gives the evidence that Manmohan Singh never had any power, and the timing for this to come out is very sensitive," said Bedi.
"If this news is true, it is a deception to the nation. The country has lost nine of its precious years like this. More than 100 crore people have been deceived, and therefore, no one should vote for such a leadership and such a party," she said.
"This party does not deserve even one vote. Sanjay Baru was an insider and he wrote this and this used to be the general impression, but the book proves it. This book has sent a message to the future government to never deceive the people of the country," she added
Baru defended his 'memoir' saying that the people have a right to know what happens in the highest levels of government in the process of decision making.
Sanjay Baru, who was the media advisor to Dr.Manmohan Singh from 2004 to 2008, has in the publication authored by him 'Manmohan Singh: The Accidental Prime Minister' pointed out that that Dr. Manmohan Singh had accepted the suggestions made by Sonia Gandhi, the head of the Congress party .
He said that his book is written on the premise that the people have a right to know about all the successes and failures of Dr. Manmohan Singh as the Prime Minister.
Baru has claimed in his memoir that Singh had reportedly told him that there cannot be two power centres in a government.
Meanwhile, in a statement released by the Prime Minister's Office, Dr. Singh's current Media Advisor, Pankaj Pachauri, said about the book: "It is an attempt to misuse a privileged position and access to high office to gain credibility and to apparently exploit it for commercial gain. The commentary smacks of fiction and coloured views of a former adviser."