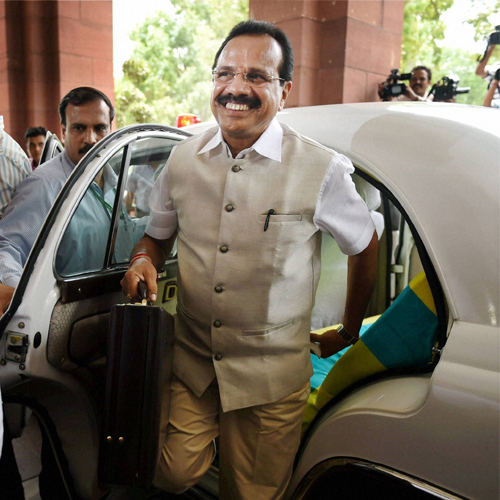 Going against the popular party opinion on Foreign Direct Investment (FDI), Railway Minister Sadananda Gowda, in his maiden budget, recommended opening the sector to FDIs.
Admitting that all the grand plans and proposals by the Budget needed more resources than what is already at the disposal of the Indian Railways, he suggested considering alternate means. The Golden Quadrilateral Network would require Rs 9 lakh crore to complete while Rs 60,000 crore would be needed for introducing one bullet train alone, Gowda informed. "Can I depend only on hiking fare and freight rates and burden the public to realise these funds? This is unrealistic. I need to explore the alternate means of resource mobilisation," he said.
Gowda insisted that growth depends heavily on availability of funds for investment in rail infrastructure. FDI will be limited to infrastructure development and not allowed in operations, he added.
However, his bold move to defy party norms, considering that the Home Ministry had already dismissed the idea of FDI in Railways, earned him ire of supporters and opposition alike.
FDI in Railways...?? BJP was so against it....what about all the "BHARAT BAND"..Pehle itna Natak Kyo karte the??? pic.twitter.com/vGoK73eAZ1

— Shalu Kanojia (@Shalupcrf) July 8, 2014
FDI in Railways was proposed by Pawan bansal in his 2013 budget. BJP staged walkout after dat announcement. Mind changed in just 1 yr Why?

— Amit Mishra (@Amitjanhit) July 8, 2014
They were opposing FDI before now agree on FDI in railways #RailBudget2014 These are double standards.

— AMIT SIROHIYA (@AmitSirohiya22) July 8, 2014
FDI in Railways and its privatization is good but what about thousands of people who get jobs under reservation in Railways. #RailBudget

— Nikhil Chaurasia (@wenikhil) July 8, 2014
#FDI in Railways reflects that our domestic players are not innovating enough to compete with global players. #Indiasleeps

— Ankit Chaturvedi (@rite2ankit) July 8, 2014
So in my opinion, FDI in Railways is a bad idea because India is not in position to afford it.You don't sell kidney to buy an iPad (some do)

— StupidosaurOn (@Stupidosaur) July 8, 2014
FDI in retail was strongly opposed by the BJP to protect RelianceFresh. FDI in railways is gonna cost us a fortune and BJP is for it. Sigh.

— Ayuq Khatib (@AyuqKhatib) July 8, 2014
Gowda had even proposed to launch a scheme to bring in investible surplus funds of railway PSUs in infrastructure projects which can generate attractive returns. However, this too, has failed to attract much support.​
PSU's and FDI in railways, I wonder how much funds that can generate and will be good in long term future. Let's see. #railbudget

— Abhinav Chandel (@ABHIandNOW) July 8, 2014