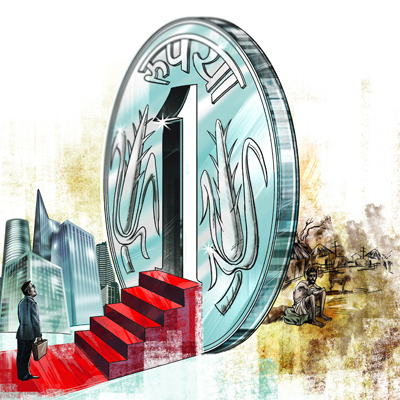 The rupee seems to be in love with the BJP, or at least the trends suggest so. In the last 18 years, spanning six Lok Sabha elections in the country, the rupee went into a tailspin against the dollar, registering about 4 per cent depreciation whenever a Congress or non-BJP government came to power. This time, with the likelihood of a Narendra Modi-led BJP government at the Centre, the rupee has appreciated by an astonishing 5.8 per cent in the two-and-a-half months preceding the Lok Sabha elections. From over Rs63 a dollar in January-end, it reached the sub-60 level by March-end.
Historically, the forex markets have given a thumbs down to every non-BJP government. For example, after the Congress-led UPA came to power with 262 seats against the NDA's 159 in the 2004 elections, the forex market went into a tizzy. Between May 2009 – when the results were announced – and June – when the new cabinet was formed - the rupee depreciated from Rs47 to Rs49 against the dollar. In contrast, when the BJP-led NDA assumed power in 1998, the rupee appreciated from the 40.6 level in mid-January to Rs39.6 after elections in February.
A report by the India Forex Advisors points out that after the 1996 Lok Sabha elections, which saw a hung Parliament, the rupee saw a sharp decline of four per cent. The only time the rupee depreciated after the BJP came to power was in 1999, but it was a miniscule slide of 0.7 per cent against the dollar.
The BJP is upbeat about the market sentiments this time. "Markets factor in advance the developments that are likely to happen. There are hopes of a Narendra Modi-led stable government at the Centre. After the results, there won't be any disappointments; the markets will have something to cheer about," senior BJP leader and former finance minister Yashwant Sinha told dna.
Experts said the forex market seems to have factored in the likely political change at the Centre. However, in case of a contrary development, the rupee is likely to go into a tailspin. "If the market's favourite party emerges as the clear winner, it will certainly improve sentiments. But as this has already been priced in by the markets, the appreciation in currency will not last long. Once the focus shifts to fundamentals, and once the election euphoria is over, we will see the rupee resuming its bearish trend. Looking from the other perspective, we can say that if the market's favourite party does not come to power, the rupee will depreciate as it happened in 2004... it would move towards the levels of 61.80-62 against the dollar," said Abhishek Goenka, CEO, India Forex Advisors.