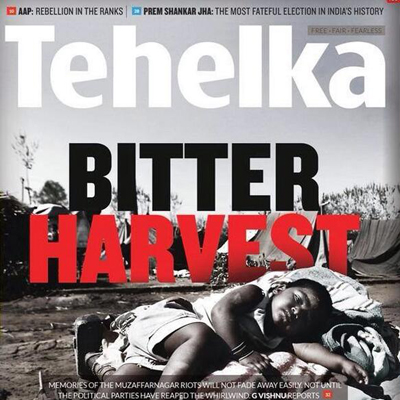 Tehelka, one of India's biggest news organisations primarily known for its investigative journalism was rumored to have shut down its print edition. However, sources at Tehelka confirmed to dna that the news magazine is not shutting down, nor is it going only online.
"In fact the magazine numbers have just been increased, and we are shifting to a new office in Okhla," said a senior member of the editorial staff.
Immediately after the arrest of former editor Tarun J Tejpal on the alleged rape charges in November 2013, Alchemist Group chairman KD Singh, the majority stakeholder in Anant Media Pvt Ltd, the holding company of Tehelka, had spoken about selling off the magazine, but finally decided to stick around.
The Tejpal family had exited from the management with Singh taking direct charge. After initial uncertainty, the Singh-led management has been paying employees their salaries on time and even clearing travel allowances for election coverage.
Another senior staff pointed out that initially the management wanted to bring down the number of people working for the online platform, but was dissuaded against it.
Tehelka was founded by Tarun Tejpal along with Aniruddha Bahal and was first in the form of a website, though it later became a tabloid newspaper and eventually a magazine in 2007.
Widely known for the uncovering of match fixing in cricket through 'Operation West End', the news agency has recently been in the lime light for other reasons. In November 2013, founder and Editor-in-Chief Tarun Tejpal was accused of sexually assaulting one of his women journalists. The case shot Tejpal and Tehelka into the media spotlight, and as the case progressed the organisation continued to receive shot after shot. Eventually Tejpal resigned, followed quickly by a number of Tehelka members including well known journalist and then managing editor Shoma Chaudhary.
There was speculation that after Tejpal's indescretions, Tehelka would suffer as well.
The rumours of the shutdown caused widespread reactions on Twitter.
So Tehelka has shut down its print edition totally. My newspaper chap just confirmed it. Quite sad that such a great magazine shut down.

— Brown Sahiba (@Rajyasree) April 13, 2014
Speaking of left voices. Tehelka shuts print edition. Congratulations media.

— Vidyut for #SWARAJ (@Vidyut) April 13, 2014
Tehelka shuts print edition. Good riddance.

— Harish Rao (@HeckWeAre) April 13, 2014
Now tht Tehelka has shut its print edition, Shoma can join NCW n Tejpal Congress for livelihood. Bt wht abt those young unemployed journos?

— Mine of Nectar (@sudhakar10) April 13, 2014
so Tehelka has totally shut down its print edition. :(

— Antibro (@BlowUsama) April 13, 2014
RT if you are happy to see Tehelka shut shop and hope @ndtv is next in line

— Jiten Gajaria (@jitengajaria) April 13, 2014
Best news of the day RT @AndreBorges28: #Breaking: @Tehelka reportedly shuts down its Print Edition

— Pranav Chaiwala (@porbandar123) April 13, 2014
Seems Tehelka has shut down its print edition. A bunch of young scribes who wanted to change the world now find themslves shortchanged by it

— Vishnu Prasad (@visheprasad) April 13, 2014
It will neither be mourned nor missed. Yawn. RT@vishmanve12 Reports: #Tehelka shuts down its print edition.

— BharataBhagyaVidhata (@sudarshan_v1) April 13, 2014
@bhanwarlalswami @rajuparulekar @AndreBorges28 @Tehelka @mediacrooks @ALKAAGARWAL9 it was expected as money stopped flowing

— Dilip Ganatra (@kakdwip) April 13, 2014