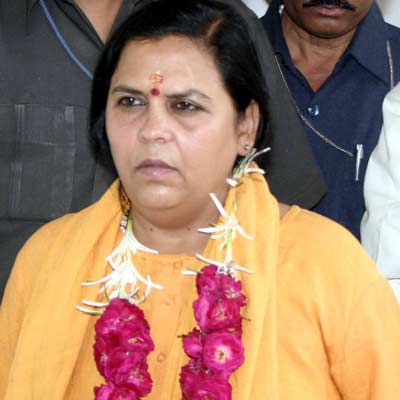 That BJP's roots can be traced back to RSS is a well-known fact. But, senior leaders clearing stating their opinion on RSS guidelines for running the country reminds experts of just one claim, 'Congress runs from 10 Janpath and BJP runs from RSS in Nagpur.'
Senior leader Uma Bharti who won from Jhansi has been mired in many controversies including criticising Narendra Modi at some point in her political career.
In an interview to a news channel, Uma Bharti spoke about BJP's ideological framework set up by RSS and explained how all BJP cadres knew their limitations and guidlines in running the country under RSS' frame-work.
"RSS teachings in our blood. No remote control, its all self control" said Uma Bharti when questioned about BJP being controlled by RSS.
She further went ahead and stated, "Advani is like the Himalyas. He guides us,how can we talk on his future role."
The question in focus was that people were worried that RSS would control BJP. Uma Bharti retorted and said, " We are RSS. RSS is in our blood."
This proclaimation raises questions and adds weight to various experts claiming that the dynasty rule had just been replaced with Parivar' rule with BJP's rise to power.
For the first time, RSS had established parallel teams and coordinators in 80 Lok Sabha and 403 Assembly constituencies. It also appointed a two-member committee at all 1.40 lakh booths across the state to make sure that BJP triumphed in these elections.
Though it is imperative to note RSS' role in garnering support from cadres and its extensive network to drive BJP's win, it would make better sense for Narendra Modi to be independent of the organisation like Atal Bihari Vajpayee while governing the country.
To know more about RSS and its journey, click here