RSS spokesperson Ram Madhav comes to the RSS chief's rescue, saying the latter had been misquoted by the media.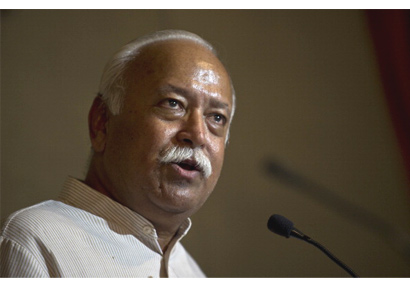 After creating a controversy with his remarks that "rapes occur frequently in urban India and not in rural Bharat", RSS chief Mohan Bhagwat has reportedly said that men and women are bound by a contract according to which a women's duty is to take care of household chores, while the husband's duty is to earn for the house.
However, RSS spokesperson Ram Madhav has said that Bhagwat has been misquoted and added that he was referring to western marriages being based on a contractual system.
"It is unfortunate that the media has totally misrepresented Sri Bhagwatji's comment on the western marriage system. The media has projected his comment and his views on the Indian marriage system, which is false," Madhav said.
"He (Bhagwat) said that western marriage system is contractual and many social scientists also agree that the western marriage system is contractual. Whereas the Indian marriage system is a sacred concept where women have a lot of respect and men have certain obligations," he said
"It is a total distortion of what he said. Absolutely, his views were misrepresented. He did not say that the Indian marriage system was a contract. I request that the media should not do such things," he added.
According to television reports, Bhagwat, while addressing a gathering in Indore, said that a husband and a wife are "bound by a social contract" where the wife has to take care of household chores and the husband's duty is to earn for the house and protect his wife.
Bhagwat further said that the husband can disown his wife if she fails to fulfill her 'duties', and in the same manner, a wife can also abandon her husband if he is not honouring his part of the marital contract.
Earlier on Thursday, addressing a citizens' meet in Silchar in Assam, Bhagwat had criticised the "western" lifestyle of people in urban areas, and said that without empirical evidence to back such a claim, that rape is prevalent mainly in cities where Indians are deeply influenced by western values, and not by rural India.
"You go to villages and forests of the country, and there will be no such incidents of gang-rape or sex crimes. They are prevalent in some urban belts. Besides, the new legislations, Indian ethos and attitude towards women should be revisited in the context of ancient Indian values," he added.
The RSS chief, however, said that he wanted stringent laws in sexual crimes against women and will favour capital punishment for those convicted of rape.