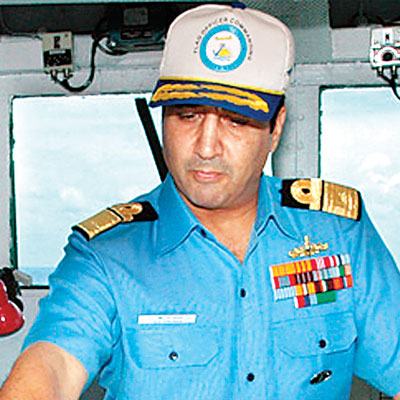 As the process to select navy chief reaches its last leg, Vice Admiral RK Dhowan, who is also officiating chief of naval staff after admiral DK Joshi's sudden departure, is emerging as the frontrunner for the top post.
Defence minister AK Antony, who returned to his office after a fortnight of electioneering, has forwarded his recommendation to the Prime Minister's Office, which has been kept as 'top secret' by the government. Sources have indicated that the defence minister AK Antony has recommended Admiral RK Dhowan's name for the top post.
But the final decision will be taken by prime minister Manmohan Singh, who heads the Appointments Committee of Cabinet. Once, the Prime Minister's Office clears the appointment after consultation with the union home minister, who is also a member of ACC, the file goes to the Cabinet Secretariat before it reaches its final destination i.e. President's Office. Only after President's nod, a formal announcement will be made by the defence ministry.
Indian Navy, one of the world's largest navies, has been running 'headless' for over 50 days and UPA-II government was not been able to appoint head of Indian navy calling the situation as 'unprecedented'. Ministry was doing background checks of all shortlisted candidates by collecting inputs from Intelligence Bureau.
Available indications have suggested that amongst the shortlisted candidates, Vice Admiral RK Dhowan's name is figuring prominently. Three top most admirals, including Western Naval Command chief Vice Admiral Shekhar Sinha, Vice Admiral Robin Dhowan and Eastern Naval Command chief Vice Admiral Anil Chopra for the race to succeed Admiral Joshi, who resigned on February 26 for taking moral responsibility for repeated mishaps involving warships.
An official on the condition of anonymity told dna that considering the senior most admiral could be a tough decision for the ministry.
"Admiral DK Joshi resigned because of accidents of naval ships, which mostly happened in the western command. In a way, western command head should also be held responsible for mishaps."
Though, there were some issues with RK Dhowan as well, as he has never headed a command, there is no written rule against him to become the chief.
However, superseding was the only issue which AK Antony-led defence ministry was considering.