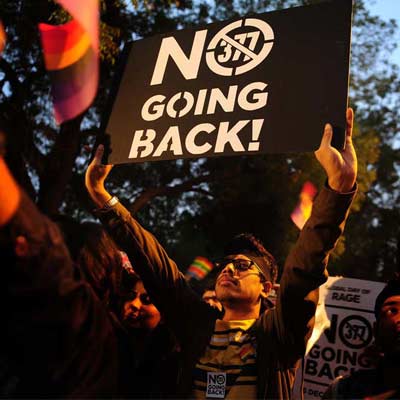 Yesterday was marked as the International Day against Homophobia and Transphobia, calling upon the world leaders to take action on crimes against the Lesbian, Gay, Bisexual, and Transgender (LGBT) community.
United Nation's general secretary Ban Ki-moon stood with placard appealing to the world to be more tolerant of each other.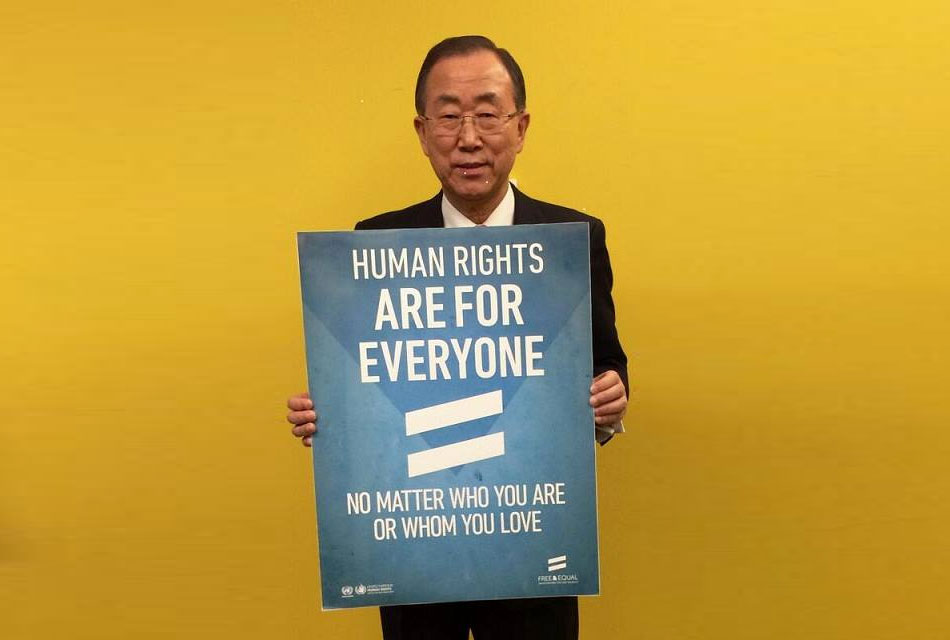 (UN Free and Equal campaign)
In his blogpost 'Equality begins with you', Ban noted how most countries not only don't offer protection against discrimination, but instead have laws that criminalise homosexuality (looking at you, India). He reminds the readers, "In 76 countries, having a partner of the same sex is even a prosecutable crime. People are arrested, imprisoned, and in some cases executed, just because they are in a loving relationship."
In conclusion, he adds, "We have a long road ahead. It will not be easy. But we must ask ourselves: Do we want to live in a world where love is targeted or where it is celebrated?"
That. Just that one simple question.
Why should love be criminalised? Why isn't the right to love a universal human right yet?
A small group of Indian student activists from Jamia Millia Islamia, attempts to answer this question. Aptly called the 'Right to Love', document true to life stories of love from across the country. "Love shouldn't need a justification at all. It is our right," they theorise.
Tahir Ahmed, co founder on the project, explains, "For one, Right to Love is not just about the right to have sex with a consenting adult. We are talking about all the other rights too—be it the right to marry, the right to own property as a gay couple, the right to economic equality as a homosexual."
It was only in December last year, in one sweeping judgement the Supreme Court of India criminalised the entire LGBT community by upholding the archaic law Section 377, four years after it was decriminalised by the Delhi High Court.
And if one were to go by the numbers given by the government, the judgement affected 2.5million homosexuals in India. "Now that is more than the population of Greece, Portugal and Mauritius combined. Our aim is to document this phase of struggle for equality," emphasises Ahmed.
Although the idea for this campaign was conceived for a Master's project, the SC verdict suddenly shot it to forefront, providing voice to the marginalised.
What is the project about?
"As the project's title suggests, our goal is to make sure that we all have the Right to Love whoever we want, the way we want," explains cofounder Karan Deep Singh. "Somewhere we felt that dominant perceptions could only be changed once people see and experience human stories from the community. Because, sexuality is so intrinsic to oneself, it makes us who we are," he elaborates.
And so in short five minute video clips, they narrate personal stories of those struggling to cope with being queer in India, a nation that is still grappling with 21st century ideas of human rights and dignity. "Real-life stories have an instant connect with people. These are stories of love, abuse, coming out, struggle for identity and most importantly, stories of people who have been marginalised. It helps people comprehend what the challenges have been for the ones who've been denied their rights since 1861," explains Karan Dhar.
For instance, in the very first episode of explores how a 21 year old tries to come to terms with his identity, after having been told over and again how his feelings were wrong and immoral.
The series has no definite end. "We will continue to document as and when we have more stories from individuals who are ready to be a part of the project," they share.
Being true to life stories, they are also open to anyone who wishes to contribute* to the project. "We assure absolute anonymity for people who are not out of the closet. We are even open to the idea of using voice actors if somebody isn't comfortable with their own voice being there. We do audio stories, photo illustrations and even publish written letters," they assure.
"We have a long way to go"
With India's new government in place, the future of LGBT rights in country seems bleak. BJP, the majority party in the 16th Lok Sabha, has made its stance clear on the subject of homosexuality, with most of its leaders condemning homosexuals as "unnatural".
Ironically, as they point out, all of the Indian modern day institutions revolve around sexuality, be it marriage, anniversaries, to individual rights.
Prominent BJP leaders, including Rajnath Singh who hopes to find a place in the prime minister's cabinet, stood in solidarity with the Supreme Court judgement on Section 377. "If an all-party meeting is called, we will support Section 377 as we believe that homosexuality is an un-natural act. We cannot support it," Singh had said.
But the political elite only reflect the popular mindset towards LGBT rights. Not too long ago, Yoga guru Baba Ramdev claimed to have the ability "cure" homosexuality.
Yet despite this, the 'Right to Love' team is hopeful. "The new government has the motto of 'sabke saath, sabke liyein' (with everyone, for everyone). We hope that the new government will justify their motto in their actions by granting equal right to members of the queer community and scrapping Section 377 from our constitution," they state.
"India has always been a diverse country, and this is a part of that diversity."
(*Note to those who want to contribute: People can record their own videos with a simple webcam, upload it on Youtube and email the link to mail.therighttolove@gmail.com. They can share pictures on Right to Love's Facebook page, tag their Instagram photos with #therighttolove and tweet to @right2loveindia. They can even get in touch with the team who can cover them for our upcoming episodes)