Group stands for anti-development, says BJP's prime minister candidate.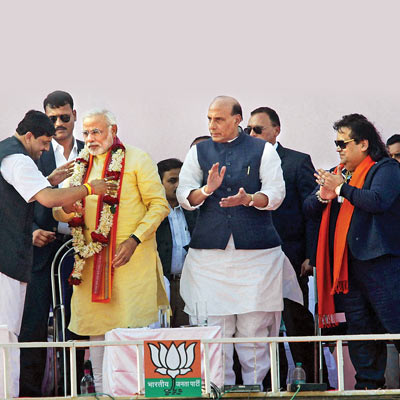 Bharatiya Janata Party's prime ministerial candidate Narendra Modi on Wednesday blasted the just-formed alliance of 11 anti-Congress and anti-BJP parties calling it an "anti-development" group that will make India a 'third rate country'. At the same time, he serenaded Mamata Banerjee barely a week after she branded BJP "communal riots party" at this venue while espousing the Trinamool Congress policy of equidistance from both national parties.
As proof, he touted his thesis that a major reason why India's western region is ahead economically is that none of the constituent members of what he referred to as the Third Front ruled that part of the country.
"The purpose of this Third Front is to make India a third rate country," said Modi.
Modi's comment, made at a big rally at the Brigade Parade ground here came on a day when these 11 parties -- four Left parties, Samajwadi Party, JD(U), AIADMK, AGP, Jharkhand Vikas Morcha, JD(S) and BJD -- formally met in New Delhi and announced formation of a federal front ahead of the Lok Sabha elections.
The gathering at Brigade was impressive considering BJP's negligible presence in the state, forcing Modi to quip, "I haven't seen such an ocean of people before."
Referring the third front members as 'Secularism ke thekedar' (Secularism's contractors), Modi said these parties stripped Muslims of humanity and turned them into a vote bank.
"These parties talk of the poor and secularism only when there is an election yet they never worked to pass on the fruits of development to Muslims."
In contrast, the economic condition of Muslims is far better in Gujarat.
"The number of Muslims is more in Bengal. Yet in Gujarat, applications for Haj pilgrimage is 37,000 compared to 12,000 applications in Bengal. You can go to Haj only if you have money in your pocket!" Modi said.
On Mamata Banerjee, Modi played safe, apparently in a bid to keep her in good humour for post-election permutations and combinations, asking the crowd once if they have really seen parivartan (change), the promise on which Trinamool Congress swept the assembly election in Bengal.
Modi changed his tone soon, shifting focus to the national stage and the Lok Sabha poll.
"You have voted Mamata Banerjee to power in the assembly poll. Now, elect BJP candidates from every Lok Sabha seat in the upcoming polls. You will then have three ladoos (a win-win situation) – me (Modi) at the Centre, Mamata Banerjee in the state and Pranab da to supervise us," he said.
Modi reminded how Bengal couldn't see a Bengali prime minister in Pranab – once when Rajiv Gandhi died, and then again when Sonia refused to take up the job choosing Manmohan Singh instead -- only because of the culture of nepotism bred by Gandhi family.
Nattily-dressed college student Kalpana Patel told dna that "curiosity" about India's "most powerful" Gujarati drew her to the rally with her parents who run a hosiery business in Bhowanipore – Kolkata's Gujarati hub.
"Modiji definitely has a vision. He is very different from Rahul Gandhi and Arvind Kejriwal. He is so Indian. He looks like one of us. He speaks like we do," she said.