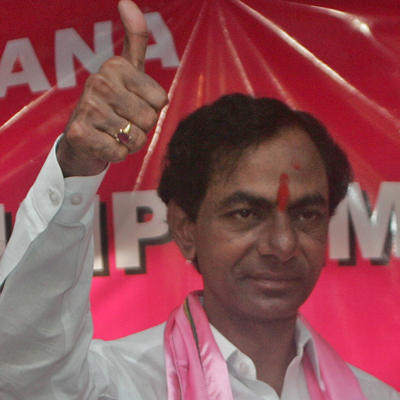 Telangana Rashtra Samiti supremo K Chandrasekhar Rao and his daughter K Kavitha took an early lead in Lok Sabha elections in Telangana.
Rao was ahead by 1,500 votes against his nearest Congress rival Sravan Kumar Reddy in Medak, and Kavitha was leading by 4,000 votes over sitting Congress MP Madhu Yashki Goud in Nizamabad, as per initial trends. TRS is leading in eight Lok Sabha seats while Congress and BJP in one seat each in Telangana, which would come into being as a new State on June two.
N Chandrababu Naidu's TDP is coming out in flying colours in Seemandhra region of Andhra Pradesh.
R Samabasiva Rao, who is contesting from TDP seat in Narasaraopet constituency is leading by 78, while YSR candidate Ayodya Ramireddy is trailing. Also, TDP candidate Ashok Gajapathi Raju Pusapati from Vizianagaram leading by 746 votes,while YSRCP contestant Venkata Swetha Chalapathi Kumara Krishna Ravu was trailing behind.