Activist claims existing projects for minorities not on track.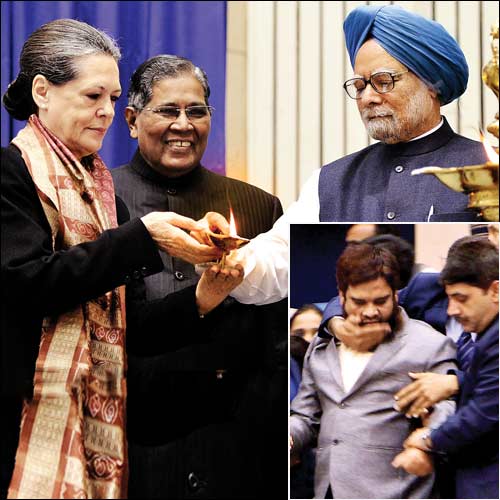 The UPA government's much-publicized launch of the Rs500 crore National Waqf Development Corporation (NWDC) turned out to be an embarrassment as a Delhi-based social activist rubbished government claims of helping the minorities. Immediately after the prime minister finished his speech, an activist — Dr. Faheem Baig — stood up and questioned the rationale of announcing new schemes and wanted to know fate of old and existing schemes.
Further damage was done when pictures of the SPG and the Delhi police sleuths dragging him from his seat were aired on TV channels. He was thrown out and detained. Realizing the potential of its political fallout, Congress president Sonia Gandhi stepped in asking for his release. She later instructed the minority affairs minister K Rahman Khan to invite Baig and listen to his complaints.
Baig was on his feet shouting that none of the minority welfare schemes were reaching its target beneficiaries. He urged the prime minister to better take care of existing schemes instead of starting new schemes. "Implement them instead of fooling the minorities with newer and newer schemes," he shouted.
Rahman went out to speak to him after the inaugural ceremony and assured that action will be taken against the guilty officials. He also told Baig that his ministry's basic problem was that it had no machinery of its own to implement the minority schemes and that was one reason such complaints come. After being taken out of the hall, Dr Baig told reporters that he was not an intruder but came with an official invitation from Rahman's ministry and opted to disturb the meeting since his voice was not heard despite writing 150 letters to the prime minister.
Showing his RTI queries to reporters, he said he got information through RTI that not a single penny was released under the PM's 15 points programme. "We do not need new schemes when the government cannot ensure the implementation of the existing ones and that was all I wanted to convey publicly," he said. He said none of the government schemes under the Multi-sectoral Development Programme or Prime Minister's 15-point program are being implemented on the ground in the North-East Delhi, under the nose of central government.
The opposition Bharatiya Janata Party immediately took up the issue and dubbed it a display of the anger and frustration building up against the Congress-led United Progressive Alliance government.