Forty eight years ago on January 11, 1966, the nation lost one of its greatest leaders and prime minister Lal Bahadur Shastri in Tashkent.
Born in Mughalsarai, Varanasi, Shastri lost his father when he was only a year old. Shastri completed his education at East Central Railway Inter college in Mughalsarai and Varanasi. He got a first class degree from Kashi Vidyapeeth in 1926 and also earned the title Shastri.
Inspired by Mahatma Gandhi, Shastri joined the independence movement in the 1920s. After Independence in in 1947, he joined the Jawahar Lal Nehru's government and rose to become one of the key figures on the Indian political scene.
He held several portfolios, including railways minister (1951–56) and home minister before being chosen as the prime minister of India after Indira Gandhi turned down the post.
Despite a small frame, Shastri rose to great heights with his economic and domestic policies.
He not only promoted the White Revolution, a national campaign to increase the production and supply of milk, by supporting the Amul milk co-operative of Anand, Gujarat, but also granted complete independence to the armed forces.
Describing Shastri's decision, then GOC of the Western Command, Lt Gen. Harbaksh Singh, had said, "...tallest decision taken by the shortest leader of the country...".
One of his admirers, Jagdamba Prasad Mishra recounts the time when he came to visit Mumbai (then Bombay). fascinated by Shastri's leadership, a teenager Mishra had even defied his father's diktats to hear the leader speak during his rally at Azad Maidan.
He remembered how the many people gave up one meal when people were facing chronic food shortages across the country, so that food could be given to those affected.
It was during the war with Pakistan in 1965 that Shastri came up with the slogan of "Jai Jawan Jai Kisan" ("Hail the soldier, Hail the farmer"), thereby highlighting the need to boost India's food production.
Today as we struggle with the a plethora of crises, his able leadership, during which he resolved many problems, including hostility from across the border, is something that needs to be remembered the most.
Paying his tribute to this gentle yet resolute leader, Mishra dedicates a heartfelt poem to the son of the soil.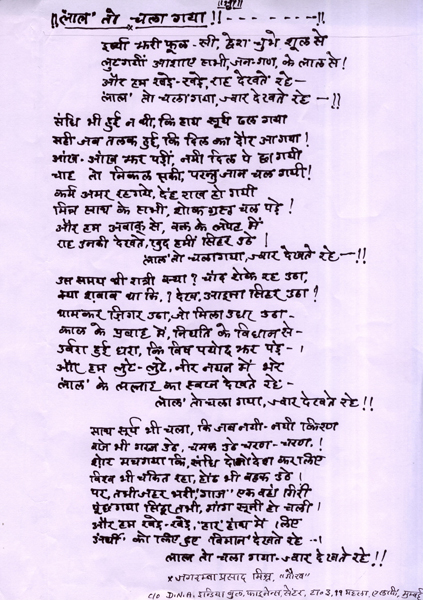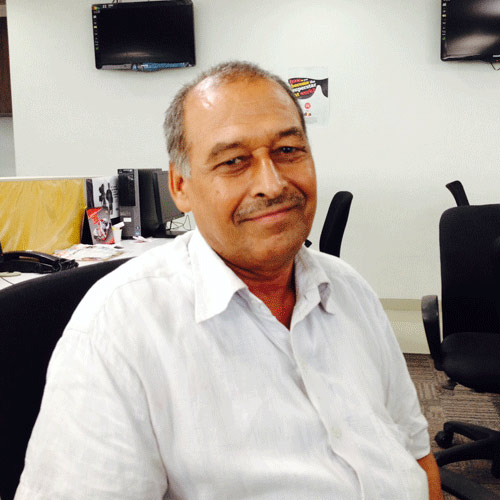 Mishra hails from Bakhopur village (Allaya Sujangunj), Jaunpur, Uttar Pradesh.