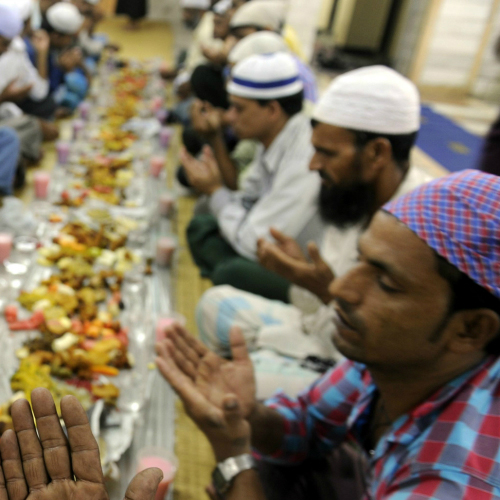 Religious fervour and gaiety marked the festive occasion of 'Eid-ul-Fitr' in Gujarat with Muslims thronging mosques to offer prayers and exchanging greetings.
State Chief Minister Anandi Patel and Governor O P Kohli greeted people on the occasion.
"Development for all. Let us move together with this mantra. On the auspicious occasion of Eid-ul-Fitr, wishing you all Eid-Mubarak (greetings of Eid)," Patel said.
In an official statement the Governor said, "the festival of Eid will strengthen the spirit of love, peace and brotherhood in society and will also increase happiness and prosperity."
Donning traditional attire, men and children today visited mosques while congregational prayers were held at Idgahs at various places in the state.
Muslims greeted each other and also people from other communities.
Congregational prayers were also held at historic Jumma Masjid, Seedi Syed's jaali, Rani Seepri's Masjid, Sarkhej Roza and other mosques in Ahmedabad.
The celebration was also marked by culinary delight with delicacies like 'Sewayian', Sheer Khorma (made up of milk, dry fruits and vermicelli), biryani and kebabs being served to guests.
Elders distributed 'eidee' (token money) to children while alms were given to the needy and poor.
Despite heavy rains, markets in various Muslim-dominated areas in the city catered to revellers on the occasion.
However, the festive mood in Mehsana district turned into grief with the death of two persons, including an eight-year-old boy, when a stretch of compound wall of Idgah collapsed on them after prayers. 35 persons were also injured in the mishap.