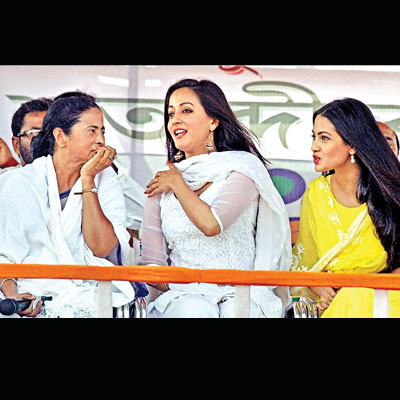 Keen to have a national footprint, regional parties are aggressively working towards cornering a minimum of 30 seats in the 2014 general election to be able to play a decisive role at the Centre.
The aggressive posturing is evident by the unprecedented increase witnessed in the number of pan-India candidates fielded by at least four regional parties. Behind the effort to come out of their comfort zone lies the desire to play kingmaker if not the king himself.
The reason behind fielding a large number of candidates could also be to gain a place in the list of national parties. As per the Election Commission of India (ECI), a party can be considered as a national party if it secures at least six per cent valid votes polled in any four or more states, in a general election. Currently, there are six recognised national parties — Congress, BJP, CPI, CPI (M), BSP and NCP.
The four parties that are stretching themselves are Mamata Bannerjee-led All India Trinamool Congress (AITC), Mulayam Singh Yadav's Samajwadi Party (SP), Nitish Kumar's Janata Dal (United) and Uddhav Thackeray's Shiv Sena.
In the 2009 general election, these four parties together contested in seven states. This time around though, their candidates are fighting in as many as 31 states.
For instance, Trinamool Congress, which contested 27 seats in West Bengal in 2009, has fielded candidates in 20 states now. Other than in West Bengal (42), the party is fielding candidates in Arunachal Pradesh (1), Assam (12), Bihar (7), Goa (1), Haryana (2), Karnataka (1), Kerala (5), Madhya Pradesh (1), Maharashtra (3), Manipur (2), Odisha (5), Rajasthan (7), Sikkim (1), Uttar Pradesh (16), Chhattisgarh (3), Jharkhand (10), Delhi (5), Tripura (2) and Andaman & Nicobar Islands (1).
Similarly, SP has increased its reach from 95 candidates in three states in 2009 to 195 across 20 states, including 80 in its home ground of Uttar Pradesh. The party has gone as far as Lakshadweep islands and Assam.
Nitish Kumar's JD (U) too is going beyond Bihar this time. The party has fielded candidates in 18 more states, including in Andhra Pradesh (1), Gujarat (12), Jharkhand (5), Karnataka (6), Kerala (3), Maharashtra (3), Dadra & Nagar Haveli (1), Puducherry (1), etc. In the last Lok Sabha polls, the party had fielded candidates only in Bihar (25) and Jharkhand (2).
Interestingly, BJP's long-standing ally, Shiv Sena, is turning its foe outside Maharashtra. Limited only to Maharashtra (22) in the 2009 polls, this time the party has fielded candidates from 11 states, including Bihar (7), Kerala (4), Punjab (6), Uttar Pradesh (11), Delhi (3), etc.
National footprint
Trinamool, SP, Shiv Sena and JD(U) have fielded candidates in 31 states
Shiv Sena, which has an alliance with the BJP in Maharashtra, has fielded candidates against BJP in other states
SP has pitched candidates as far as in Lakshadweep while JD(U) candidates are contesting polls in Dadra and Nagar Haveli