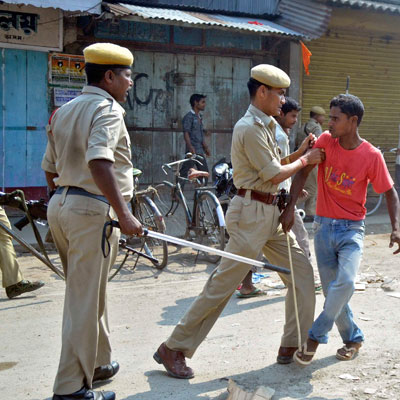 Tense situation in northeast Assam-Nagaland border areas affected Manipur province as regional parties called for an indefinite economic strike on Tuesday.
Situation in the border areas remained tense as death toll touched nine, said a senior police official.
The affected areas remain tense due to killings in Merapani and Uriamghat of Golaghat district of Assam province.
The situation aroused when two victims identified as Fosoi Gor, 25 years and Chintamonee Barhoi, 64 years, who hailed from Golaghat district, were hit by bullets fired by unidentified persons from Nagaland side while they were protesting against the kidnapping of two teenagers by suspected miscreants last week.
Director General of Police (DGP) of Assam Police, Khagen Sharma confirmed the recovery of nine dead bodies.
Over 1,000 vehicles, bound for Manipur, passing through Nagaland are stranded at National Highway (NH) 39 due to the blockade called by Assam's regional Asom Jatiyabadi Yuva Chatra Parishad (AJYCP) and other organizations to protest against the border violence.
Land-locked Manipur is facing an acute shortage of essential commodities as thousands of trucks loaded with daily items were stranded on the Guwahati-Dimapur-Imphal portion of NH-39 in Assam.
Petrol pumps remained shut while women hoarders sold illegal petrol to hundreds of people, who bought it from them other than the few open pumps.
"We have gone through nine relief camps. We have monitored all those medical facilities and their food and safety. They are getting adequate facilities. Somehow, there is something missing. I request the higher authorities to give all the facilities (including petrol) and hope everything will be fine within two-three days," said Hemanta, a resident of Imphal city.
Chief Minister of Assam province Tarun Gogoi visited the affected areas on Monday. Meanwhile, a scuffle erupted between people and police at Merapani's district near Nagaland border opposing the visit of Gogoi. Massive protest was held, effigy of Gogoi was burnt on street and people shouted anti-government slogans for inaction in the matter. Locals in the affected areas continue to live under uncertainty and insecurity due to the periodic clashes.