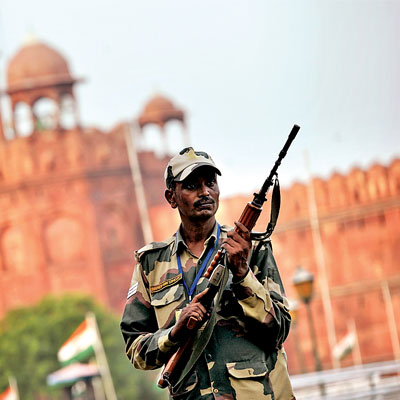 The Supreme Court on Monday stayed the execution of Pakistani terrorist, Mohammed Arif alias Ashfaq, who has been on death row for carrying out an attack on the iconic Red Fort in the capital 14 years ago.
Issuing notice to Centre, a bench headed by Chief Justice R M Lodha sought its response on Arif's plea seeking its direction for his release on the ground that he has already spent over 13 years behind bars and he should not be hanged after such a long period.
The SC also referred Arif's plea to a constitution bench, which comprises at least five judges, to hear the matter Mohammad Arif, along with five other terrorists of Pakistan-based banned militant group, Lashkar-e-Taiba, stormed the Red Fort in 2000, in which two Indian Army personnel and one civilian were killed.
In his plea, filed through counsel Vishnu Sharma, Arif claimed that he has already spent nearly 14 years in prison and he should not be hanged after such a long period.
His counsel told the court that execution of Arif's death sentence would amount to punishing him twice for the crime as he has already spent over 13 years which is equivalent to life imprisonment.
According to the plea, Arif said that he has been suffering from physical and mental illness due to the long delay in judicial proceedings as also on the part of the government in executing the sentence.
In 2007, a trial court had convicted him of waging war against the state, among other crimes, and sentenced him to death, which was subsequently confirmed by the Delhi high court and in 2011, the Supreme Court had also upheld the capital punishment against him.
While dismissing his appeal against conviction and sentence, the top court had made the remark saying "arrogant assault was a brazen attempt by Pakistan to overawe India and wage war against it."
There are some 400 prisoners on death row in India currently and the death penalty of Mohammed Ajmal Amir Kasab was executed in 2012 for his role in the Mumbai terror attacks in which over 170 people were killed, besides Kashmiri fruit seller Afzal Guru who was hanged for his role in 2001 Parliament attacks.