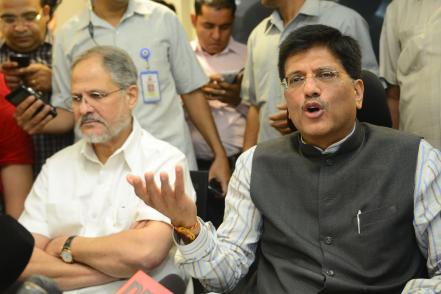 Union Minister for Power Piyush Goyal said here on Monday that a record breaking high temperature of 47 degrees and a hailstorm had led to the power crisis in Delhi.
Acknowledging that there has been an inadequate distribution of power in the city, he said "The absence of proper investment in the power transmission and distribution has made the redundancy of power grid so fragile that it is difficult for it to handle an overload of the type that was witnessed with 47 degrees temperature, a record of 62 years."
He added that the main problem is not of power, but of proper distribution.
"When I explored the problem with local state government I found that there was no problem of adequate power available to the state government. I offered that we are ready to provide as much power as they want from the center but their problem was to transmit power within Delhi and distribute it among people," said Goyal, while addressing a press conference on Monday.
"Taking into account the problem, I have called all power grid officers from all over the world to Delhi and also got spare parts airlifted to Delhi. They successfully finished all work of repairing the damaged lines on time without any delay," he added.
He also said that the Bharatiya Janata Party (BJP) has ordered Lieutenant Governor to prepare an action plan to provide time bound distribution.
In the end, he pressed upon the need to bring a state government as soon as possible saying that it's the state government's job not the central government's to distribute power properly in the capital. "The reason behind the crisis is that Delhi is getting 8000 mega watt electricity instead of the provided 20000 mega watt," said Goyal.
"I can provide power supply but there are no distribution lines," he added.