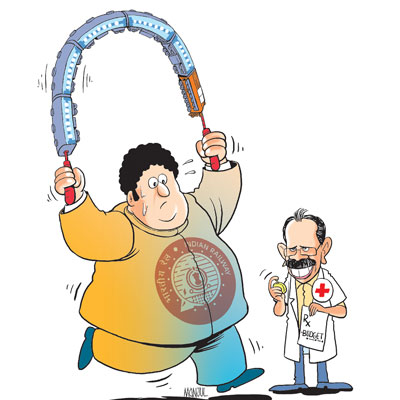 Permitting foreign direct investment and seeking public-private partnership to rope in the corporate sector in order to generate funds for the ailing railways, the first railway budget of the Narendra Modi government on Tuesday also put brakes on any new mega projects or expansions.
Declaring that announcement of new projects would render injustice to the struggling organisation, railway minister DV Sadananda Gowda virtually took a planned holiday approach, but hiked allocation on cleanliness by 40%, on passenger amenities by 25% and on safety measures by 12% as compared to the previous year.
Dismissing opposition from some states particularly from West Bengal and Bihar for being ignored at the cost of Karnataka and Gujarat, the minister said the projects announced so far by previous ministers belonging to these states will continue. "We are not scrapping any previous project," he said. The locomotive project set up in Rae Bareli, constituency of Congress president Sonia Gandhi, was also progressing as per schedule.
The minister clarified that the railways being a strategic sector, previous governments didn't allow FDI in the sector. He said the commerce ministry has been requested to overturn this rule, but said private investments would be allowed in infrastructure and facilities and not in "railway operations". He justified FDI, pointing out that internal revenue sources and government funding are insufficient to meet the requirement for the growth of the railway sector.
The recent fare hike that would generate an additional revenue of Rs8,000 crore was too little as it needs more than Rs9 lakh crore to complete the Golden Quadrilateral Network of High Speed rail and about Rs60,000 crore for introducing just one bullet train, he said in his hour-long presentation of the budget that was marred towards the end by Trinamul Congress members who rushed to the well saying nothing was given to Bengal.
The minister proposed India's first bullet train on an already identified Mumbai-Ahmedabad sector, where a number of studies have been done, but admitted that this will require completely new infrastructure. It remains only on paper as he did not provide even a rupee for the project.
The budget has also provided a paltry Rs100 crore for high-speed Diamond Quadrilateral Network with trains running at 160-200kmph. Defending this meagre amount, the minister said he was awaiting a report for the finalisation of the project.
In the beginning, nine sectors, including Mumbai-Goa, Delhi-Agra, Mumbai-Ahmedabad, Nagpur-Bilaspur and Nagpur-Secunderabad will be covered in the bullet train project.
Gowda, however, promised more trains for the travelling masses that include 43 long-distance trains, eight passenger trains, seven DEMU and MEMU as also extension of 11 trains. The long-distance trains include five premium and five Jansadharan trains, six AC express trains and 27 new express trains.
Gowda was quite frank in explaining he was not sanctioning any new projects as he pointed out that the focus in the last 30 years has been on sanctioning rather than completing them. He won't do the mistake of his predecessors as he said "the more projects we add, the thinner we spread our resources and longer it takes to complete".
As many as 676 projects were sanctioned worth Rs1,57,883 crore and 359 of them still remain to be completed that now requires as much as Rs1.82 lakh crore. There are four projects that are as old as 30 years but are still incomplete for one reason or another. In a clear dig at the Congress-led UPA government, he pointed out that it sanctioned 99 new line projects worth Rs60,000 crore in the last 10 years but only one has been completed.
The status of the ongoing projects will be made available online to state governments and other stakeholders. Gowda's resource mobilisation strategy includes using the railway land through private participation in setting up the railway-related businesses and allowing commercial development. He was sarcastic of wrong priorities in choosing projects — new lines that most of the times do not even meet operational cost as there is no commensurate demand instead of doubling and tripling to decongest the overutilised networks which bring money to the railways. In the last 10 years, the railways have spent Rs41,000 crore in laying 3,738 km of new lines as against only Rs18,400 crore four doubling of 5,050 km, though it was priority for the health of the system.
Connecting ports like Hazira, Rewas, Dighi and Dholera with rail lines by attracting private investment through BOT and Annuity route, modernising the logistic supports through private investment, speeding up construction of the critical coal connectivity lines to bring 100 million tonnes of coal to power houses, private freight terminals under the PPP project and giving boost to rail movement of perishable fruit and vegetables in partnership with Central Railside Warehousing Corporation by providing facilities of temperature-contralled storages at 10 locations in the first phase are some of the projects announced by Gowda in his budget speech. The locations for the storage include Bhivandi Road, Sanand, Azara, and Kalamboli.
As part of bringing transparency and efficiency in the Railways' strategic procurements, Gowda announced the policy decision of compulsory e-procurement of items worth Rs25 lakh and above.