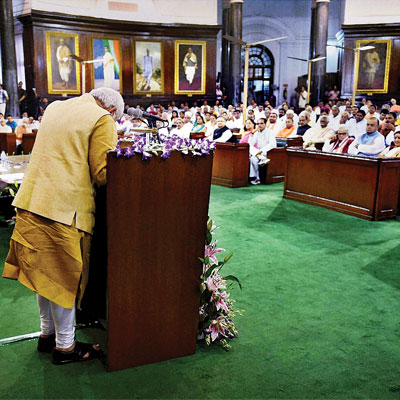 Even as president Pranab Mukherjee appointed Narendra Modi as prime minister on Tuesday, Rashtrapati Bhavan as well as Race Course Road were being spruced up to receive the new PM with festivity and fervour.
Special trains are also being planned to be run from Varanasi and Vadodra to ferry people to watch the oath-taking ceremony. The president will administer the oath of office and secrecy to Modi and his ministerial colleagues on May 26 at 6 pm.
Officials said it's normal practice to ferry people from the constituencies of a prime minister-designate.
The historic Durbar Hall and the red sand-covered forecourt of the Rashtrapati Bhavan are being beautified for the event. BJP sources indicated Modi would like to take oath in the open.
As CM, he has taken oath in stadiums in Gujarat. Officials said they have the option of the recently refurbished Durbar Hall, where India's last governor-general C Rajagopalachari and first prime minister Jawaharlal Nehru took oath of office.
Alternatively, if the guest list is long, the ceremony can be held in the forecourt, where, in the 1990s, Chandrasekhar and AB Vajpayee were administered the oath of secrecy.
If reports of the guest list being in four figures are true, then the Durbar Hall, with a capacity of 500, will not be a suitable venue and the ceremony will have to be moved to the forecourt. The list of invitees also depends on the size of the council of ministers. Normally, eight passes are issued to each minister to enable his family and friends to watch the historical occasion.
This is the third time a BJP-led NDA leader will be sworn in as prime minister. Both Vajpayee and Chandrasekhar had expressed the wish to take oath in the Central Hall of Parliament, but the request was shot down by then presidents. Vajpayee's swearing-in was held in the forecourt, both in 1996 and 1998.
Though the BJP has not yet formally conveyed to Rashtrapati Bhavan about the venue of the oath, reports suggest the party wants Modi to be sworn in before a large gathering.
Therefore, Rashtrapati Bhavan is preparing both Durbar Hall as well as the forecourt. The chefs in the President House are also making preparations for a vegetarian high-tea for 3,000 guests.
On a visit to the site, it was found that Rashtrapati Bhavan staffers were testing a red carpet as well as an antique blue carpet to spruce up the venue. The antique carpet is among the rare collections in the Tosha Khana of the President House.